Exclusive
EXCLUSIVE INTERVIEW & PHOTOS: Miley Cyrus Was A Real Life 'Mean Girl' In School, Says Childhood Pal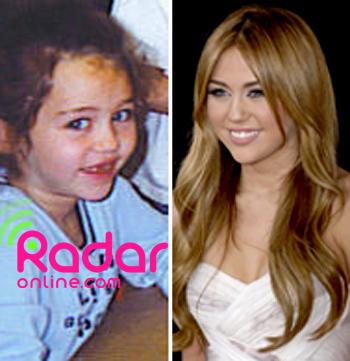 In her memoir, Miley Cyrus: Miles to Go, the Disney queen writes about her years in school where she said she was picked on and bullied.
But in an exclusive interview with RadarOnline.com, Miley's best childhood friend Nicole Mullen-Holm remembers a completely different scenario.
"Miley is a liar who bullied girls and was a real b*tch to everyone," Nicole says.
"I'm so in shock that Destiny, oh, I mean Miley, wrote a book about being the victim of middle school bullying when she was the mean girl of our school," Mullen-Holm says.
Article continues below advertisement
"Even though we were friends, she was still a brat. I knew her from the first grade and when she and I got to middle school, she just did a 180-degree turn in the wrong direction."
Miley, who was born Destiny Hope Cyrus, was friends with Mullen-Holm when they attended Heritage Elementary School and Heritage Middle School in Spring Hill, Tennessee. Mullen-Holm says the two were inseparable and had a very tight bond.
"We would hang out and talk a lot at school. Typical girl stuff," Mullen-Holm recalls.
But that all changed in middle school. "The girls took it beyond normal bullying. These were big, tough girls," Cyrus says in her book. "I was scrawny and short. They were fully capable of doing me bodily harm."
But like a good Disney story, Mullen-Holm says Miley's version is just make believe.
"Miley became so mean, I remember her shouting at an overweight girl calling her 'lesbian' and 'dyke,'" Mullen-Holm, 18, recalls. "Miley was a cheerleader and was with the 'in' crowd. She was never bullied in elementary or middle school. If anyone even touched her it would have been the end of the world. Her dad would own the school!"
Article continues below advertisement
PHOTO: Miley Cyrus-Like Mother, Like Daughter
Miley began working when she was nine years old with occasional appearances on her dad Billy Ray Cyrus' sitcom, Doc, which was shot in Canada and had the family going back and forth for three years. Before she'd finished 7th grade, Miley won the role of Hannah Montana, and the Cyrus clan took off for Hollywood. That was the last time Nicole saw her.
While Nicole says she has no hard feelings toward Miley, she just wants her old friend to grow up and not let all the fame and fortune consume her.