Billy Ray On Miley's Bong Hit: 'There Is So Much Beyond My Control Right Now'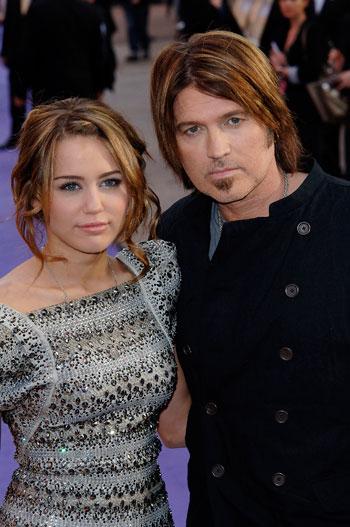 Miley Cyrus' father Billy Ray Cyrus has publicly voiced his concerns about his teenage daughter after video emerged of the teenage starlet smoking the psychedelic drug salvia from a bong, RadarOnline.com is reporting.
The country singer and actor used Twitter to express his disappointment in his famous 18-year-old daughter.
It read: "Sorry guys. I had no idea. Just saw this stuff for the first time myself. Im so sad. There is much beyond my control right now."
Article continues below advertisement
It's the first indication yet that her father is very concerned that multi-millionaire Miley's life is threatening to spiral out of control and that he's feeling helpless about her actions.
Billy Ray and his wife of 17 years Tish Cyrus – Miley's mom – filed for divorce in Tennessee citing irreconcilable differences on October 26, 2010.
RadarOnline.com revealed that although salvia is legal in California it has similar effects to LSD – video of the Disney starlet inhaling the drug surfaced today shocking her millions of fans throughout the world.
PHOTO: Miley Cyrus-Like Mother, Like Daughter
"It's a psychedelic drug, a hallucinogen and has the same effects as LSD," Clare Kavin, a registered addiction specialist and administrative director of the Waismann Method , told RadarOnline.com.
While salvia was originally used in Mexico during religious ceremonies, Kavin revealed those in the United State use it strictly for its hallucinogenic properties that can lead to disturbing behavior.
Article continues below advertisement
"It can cause psychosis, your motion sensors are off, you can feel like you are in two places at the same time, you have 2-D visions," she added.
In the video, a rambling Cyrus can be heard saying: "I'm having a little bit of a bad trip. Is that a Liam lookalike -- is that my boyfriend? Is that me tripping? Does that look like Liam at all? I want more of that s---."
RELATED STORIES: