PHOTOS & VIDEO: Kate Middleton -- Her First Official Royal Duty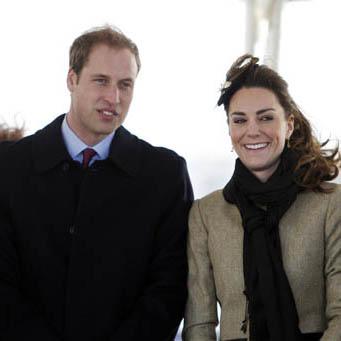 Prince William and Kate Middleton Thursday made their first official joint appearance since their engagement last November, launching a lifeboat on a rainy little island in Wales, and RadarOnline.com has the pics. More importantly, it also marked Kate's first official royal duty.
The couple officially named the "Hereford Endeavour" lifeboat during a ceremony at the Trearddur Bay Lifeboat Station in Anglesey, North Wales.
Article continues below advertisement
William and Kate actually live part-time on the remote island and will live there for the first two years of their marriage.
William works in Anglesey as a search-and-rescue helicopter pilot. He's been on duty there this week where he helped rescued a woman who had fallen off a cliff. Sadly, the woman was later pronounced dead at the hospital.
The prince works along side the volunteers who man the lifeboats he helped name on Thursday.
In royal circles, the naming of a lifeboat was not a major event, but despite that, hundreds of people turned out to watch the royal couple conduct their first official duty together.
After naming the new lifeboat, William and Middleton met members of the charity's lifeboat crew along with fundraising volunteers; they were also given a demonstration of the vessel's capabilities.
In a statement issued before the ceremony, Lifeboat's Operations Manager, Aubrey Diggle said: "It's an honor to have Prince William and Miss Middleton at our naming ceremony.
Article continues below advertisement
PHOTO: Kate Middleton Gets A Sexy Makeover In 'God Save The Queen' Poster Remake
"Naming a new lifeboat is always a special occasion for the charity where we can thank our supporters and fundraisers. Having the royal couple there will make the day even more memorable for the whole community."
After brief remarks from William, Kate poured champagne over the "Hereford Endeavor."
William and Kate will marry at London's Westminster Abbey on April 29.