PHOTO: Kate Middleton Gets A Sexy Makeover In 'God Save The Queen' Poster Remake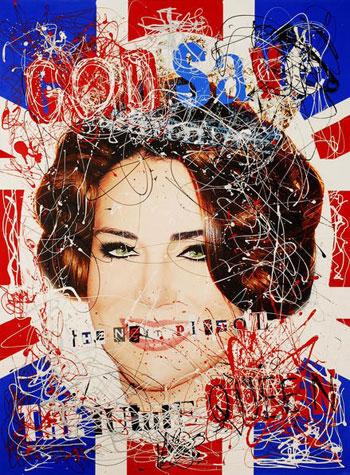 Kate Middleton has been given a royal overhaul after becoming the new face of the Sex Pistols' infamous God Save The Queen poster, and RadarOnline.com has the controversial artwork.
With her face plastered on top of a Union flag, the princess-to-be sports a short hair do and a tiara, with paint splattered across her features.
The original poster in 1977 caused outrage when it featured Prince William's grandmother, The Queen Of England, with her eyes torn out and replaced by the words "God Save The Queen".
Article continues below advertisement
The anti-monarchal tune topped the charts the same week as the Queen's Silver Jubilee.
The latest creation however was designed by a 38-year-old London artist called, Zoobs - real name Zoran Zarre.
"For me this piece is a celebration of Kate Middleton as a new and fresh member of the Royal family," Zoobs, who runs a non profit organization, Freedom From Sorrow tells RadarOnline.com.
"She reminds me of the late Princess Diana in some ways and I truly wish for her to be safe from any harm as she takes on probably the biggest role of her life, the future Queen of England, a title that Princess Diana sadly never inherited. I don't think there will be any controversy as such, after all I have portrayed her in a positive light.
"My inspiration which was taken from the Sex Pistols cover of God Save The Queen was controversial because of their own controversial reputation. I also think that society has become much more acceptable since 1977, which is when the Sex Pistols cover was released."
Despite his open critique over the royal family in the past, Sex Pistols star John Lydon congratulated the Prince and his bride when their engagement was announced.
Article continues below advertisement
"When I heard William had popped the question to Kate, I had a nice cup of tea for them," he said.
"Later on, I might even put some Buck's Fizz in my veins in their honor. This is a beautiful love story and I like that. He's done very well for himself. She's bang on the money! He got the No.1 contender."
RELATED STORIES:
Royal Wedding To Get Plenty of TLC
Kate Middleton's Bridal Boot Camp Heats Up