PHOTOS: Inside The Squalor That Is Home To Gary Coleman's Ex-Wife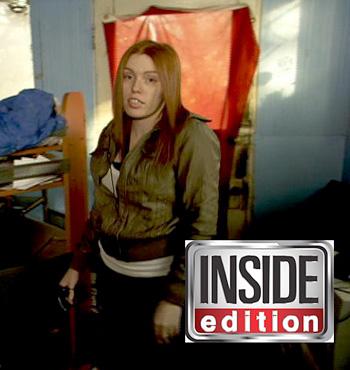 Gary Coleman's ex-wife Shannon Price is living in squalor, RadarOnline.com revealed on Saturday, and now we have the photo proof of the despicable conditions at her Utah home.
Price invited Inside Edition's Jim Moret into her house of hell to see first-hand the dirt and filth that she wakes up to each morning.
"This looks like an episode from Hoarders," said a shocked Moret, describing Price's house that she shares with her dad, brother and three dogs.
Article continues below advertisement
"I lost everything when Gary died," Shannon revealed. "It's difficult…It's embarrassing…It just sickens me and it's not a healthy environment…Gary would be very upset if he knew I was living in that house."
The Diff'rent Strokes star's ex took Moret into a bedroom piled high with clothes, bedding and shelves. The walls are bare, the uncarpeted floor barely visible under all the clutter. Rays of light struggle to shine through the grimy windows that are scantily covered by scraps of material pinned across them.
Next stop is the kitchen, which isn't fit to stand in never mind cook a meal! Dirty dishes fill the sink and every counter space, food is burned into the stove and more clothes are thrown onto dining room chairs. The cupboard doors all hang open and drawers are broken or missing.
Moret needed to hose himself off after entering the bathroom, where thick black grime stains the bathtub and sink, the mirror is impossible to see through and yet more clothes litter the floor. Price doesn't even shower there, instead she goes to a neighbor's which is clean and hygienic.
Article continues below advertisement
Shannon met the diminutive Diff'rent Strokes star in 2007, and they were briefly married in 2008.
They continued to live together after their divorce and Shannon was with Gary when he took a fatal fall down a flight of stairs --possibly after suffering a seizure.
He died on May, 28, 2010, and Shannon then launched a lawsuit for a piece of Coleman's small estate.
RELATED STORIES: