Papa Don't Preach To Lourdes Either, Says Carlos Leon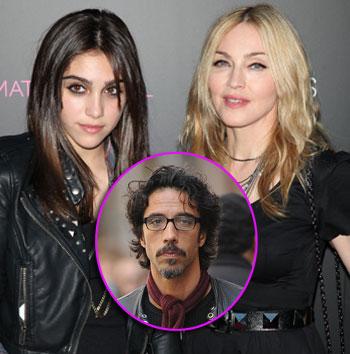 Curfews, crushes and clothes -- Madonna's daughter Lourdes has plenty to say about all three, according to her father Carlos Leon, who admitted to People he's "probably a bad dad when it comes to disciplining" the 14-year-old, RadarOnline.com has learned.
"I'm a lenient dad," said Leon, 44. "I'm very empathetic, and I'm good at listening to my daughter ... I'm probably a bad dad when it comes to disciplining her."
Article continues below advertisement
LONG LOST PHOTOS: Madonna - Before She Was Famous
Leon, who said he's "forever grateful" to the Material Girl for giving him his little girl, added he's mastering the art of negotiating with teenagers over curfews.
"I try to work with Lourdes on it," Leon, who's appeared on Oz, told the magazine. "We settle on a time, say around 10 pm, and she's like, 'How about 10:30?' And it eventually becomes 10:15."
While Lourdes doesn't have a boyfriend, Leon said, that hasn't stopped him from sweating about the day she does.
"I'm dreading it so much, because she's my little girl. I want her to stay young forever. I'm already overprotective, so when the time comes, I will be ready to have a talk with the guy she brings through the door. He better be ready, because I'll give him the rundown!"
Leon said Lourdes loves the film Twilight, as "she likes Robert Pattinson -- she's Team Edward all the way."
Article continues below advertisement
Leon joked about another way his young teen, a budding fashionista (like her mom), will assert herself with her dad.
AUDIO: Compare Gaga And Madonna's Songs For Yourself
"Sometimes she will give me a hard time about my clothes," Leon said. "I wore a pair of jeans once, and they weren't as skinny as I usually wear them, and she was like, 'Oh my God, Dad, those pants are ugly. Please change your pants ... they were too bootcut, so I changed."