MUST-SEE VIDEO: College Football QB's Trick Shots Score Big On Web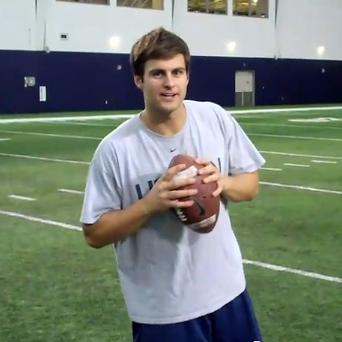 Move over, Aaron Rodgers.
Johnny McEntee, the third-string quarterback for the University Of Connecticut Huskies, is gaining steam as the Web's latest viral video sensation, RadarOnline.com has learned, as the handsome signal-caller demonstrates an amazing skill set in a series of passing drills in a video posted to YouTube.
The video was burning up the Web early Thursday, garnering more than one million views less than two days.
Article continues below advertisement
VIDEO: The 'Apologizing Thief' -- Man Says He's 'Really Sorry' While Robbing Store At Gunpoint
In it, McEntee, 21, combines a cannon of an arm with the aim of an archer, at one point tossing the pigskin effortlessly into a garbage can from 40 yards away. He also smashes a plate in mid-air with his spot-on throw, and even hits a basketball shot with his football... from the stands!
Even more amazingly, the Fullerton, California native, who honed his craft at Anaheim's Servite High School, has never gotten in a game for his college team.