Lady Gaga Likes Marisa Tomei To Play Her In A Film, Spent Valentine's In Bed, Still Perpetuating Egg Hoax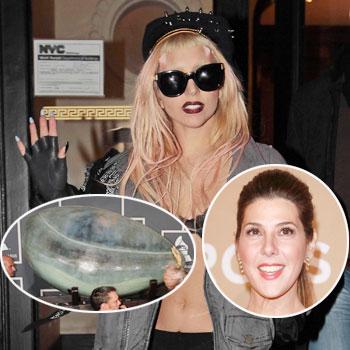 Pop superstar Lady Gaga appeared on Sirius-XM's The Morning Mash Up! Friday, where she touched on a number of hot topics, from her film career in the works, to the "three days" she spent "incubating" in the egg she arrived to the Grammy Awards in, to her new, booze-fueled diet.
Asked if she ever considers a career on the silver screen, RadarOnline.com has learned the Grammy-winner said in response, "I think at some point, yes. I think I'm sort of destined for that screen at some point."
Article continues below advertisement
The Born This Way singer said if she had to hand-pick someone to play her in a movie, it would be Oscar winning actress Marisa Tomei (The Wrestler, My Cousin Vinny).
"All my friends call me Marisa when I get angry," the Telephone singer said. "Because my New York accent just flies out of my body and I start smacking my gum.
The Poker Face singer said she spent Valentine's Day Monday "in my bed with tons of shoes... I was holding all my shoes, my Valentine's."
And in what must be her little inside joke, Lady Gaga continued to claim she spent three days in the egg -- even after an inside source told RadarOnline.com that Gaga had no more than 30 minutes worth of oxygen on hand.
"I was in it for three days, for 72 hours... yes, really."
Gaga demurred at explaining how she ate (or relieved herself) in such a small space for such a long time.
"I am not going to explain the details," she said. "I am a lady."
Article continues below advertisement
She joked she stays in shape "on the drunk diet... Drunkdiet.com.
"I live my life as I want to, and creatively," she said, adding she likes "to drink whiskey and stuff while I am working.
"But the deal is I've got to work out every day and I work out hung over if I am hung over. And it's about the cross-training and keeping yourself inspired. I have to say, I do a ton of yoga," she said.
Her new album Born This Way hits stores May 23.