EXCLUSIVE: Dr. Drew & Lindsay Lohan Make Nice; 'Lindsay Should Continue To Be Supported,' He Says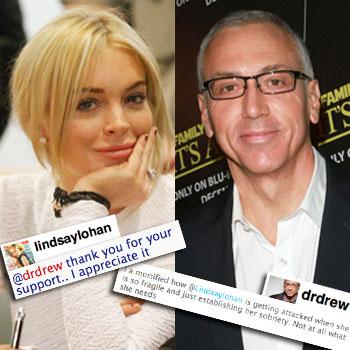 Celebrity Rehab's Dr. Drew has been reaching out to Lindsay Lohan for quite a while but it was never well received by the actress – until now.
"I a mortified how @Lindsaylohan is getting attacked when she is so fragile and just establishing her sobriety. Not at all what she needs," Dr. Drew posted on his Twitter account following Lohan's arraignment for felony grand theft charges at a Los Angeles courthouse.
Article continues below advertisement
Lohan entered a plea of not guilty Wednesday afternoon after the troubled starlet was arraigned for allegedly stealing a $2,500 necklace from a jewelry store in Venice, California.
After the doctor's message on Twitter was brought to Lohan's attention by RadarOnline.com, the 24-year-old asked us for his Twitter name and then quickly responded to him.
"@drdrew thank you for your support.. I appreciate it," Lohan wrote.
It's been a long-standing feud between the two that started when Dr. Drew made a comment about the Mean Girls star last year saying, "If she were my daughter, I would pack her car full with illegal substances, send her on her way, call the police, and make sure she was arrested."
Lohan quickly piped back calling him a "loser" and a "fake doctor."
But the days of bickering back and forth are over now and Dr. Drew tells RadarOnline.com in an exclusive interview that he's not surprised by the way Lohan reacted to him in the past.
Article continues below advertisement
"Many of my patients look at me the way Lindsay might have when they are in the throes of their addiction. When they are in recovery, they begin to understand what I was saying, and why I was saying it," Dr. Drew said on Wednesday.
"This the Twitter post is further evidence that Lindsay is in recovery, and Lindsay should continue to be supported. I wish her all the best."
VIDEO: Lindsay Lohan's Rehab Pal Says Actress Didn't Drink At Betty Ford