Judge Tells Lindsay 'Don't Push Your Luck', Orders Her To Stay Away From Jewelry Store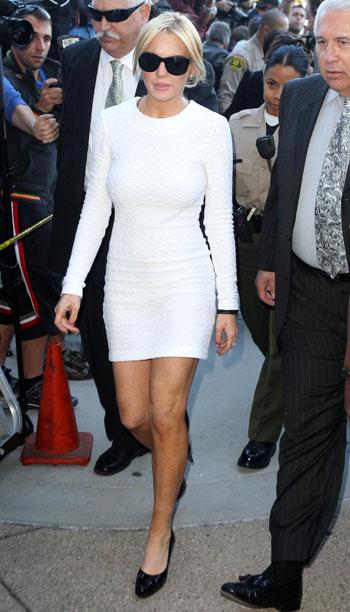 Lindsay Lohan entered a plea of not guilty to a felony grand theft charge at the Airport Courthouse in Los Angeles on Wednesday, before Superior Court Judge Keith L. Schwartz, who warned the troubled starlet not to "push your luck" between now and her next courtroom appearance. Lohan posted bail shortly before 3pm PT and has left the courthouse.
Lohan, 24, allegedly stole a $2,500 "one of a kind" necklace from a jewelry store in Venice Beach, California, as RadarOnline.com first revealed.
Article continues below advertisement
"You're no different than anyone else... please don't push your luck," Judge Schwartz said, in court.
He revoked her probation and set bail at $20,000, but warned, "If you violate the law, I will remand you and there will be no bail."
Judge Schwartz said, "Your attorney won't be as successful this time."
The troubled Hollywood wild child rolled her eyes, at one point during the brief 10-minute hearing, after Deputy District Attorney Danette Meyers told court, "A good probationer doesn't pick up a new case."
Meyers also asked Judge Schwartz to ban Lohan from contacting the store, which is located on Abbot Kinney Boulevard, because the alleged victim had received flowers recently, causing her distress.
The judge admonished Lohan, 24, as she listened intently to him.
He said, "A felony is a different situation and you're not entitled to bail, so what I'm telling you is you need to follow the laws just like everybody else.
Article continues below advertisement
"Look around this room: everyone in this room has to follow the law -- the court, the D.A., your attorney, the sheriffs deputies, everybody (and) you're no different than anyone else.
VIDEO: Lindsay Lohan's Rehab Pal Says Actress Didn't Drink At Betty Ford
"I'm telling you things will be different. Do you understand what I'm telling you?"
"Yes, sir," Lindsay replied.
Danette Meyers also asked that Lindsay stay away from the jewelry store. "Your honor I have one other concern. I would ask that as a condition, if Miss Lohan makes bail, to stay away from the victims in this case that store. it is my understanding that subsequent to this happening the store received some flowers which caused the victim in this case to be somewhat alarmed. So I would ask the court that she, her agents, or whoever stay away from the vitctims at this point in time."