Exclusive
EXCLUSIVE: 'Lindsay Is Worried,' Says Michael Lohan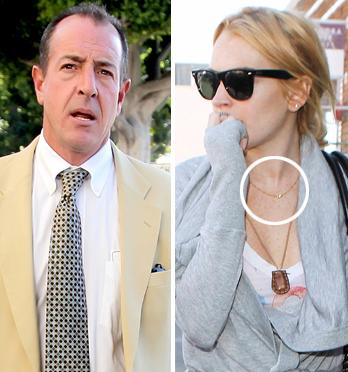 With felony theft charges looming over Lindsay Lohan, her dad Michael is insisting his daughter did nothing wrong but is still "worried" about what may happen.
RadarOnline.com broke the story of Lindsay being investigated for grand theft and that a search warrant was being prepared and only then, cops revealed, did a "representative" of the troubled starlet return the jewelry.
"Lindsay is worried about what's going to happen because when you're on probation all it takes is one false accusation and you can be in big trouble," Michael tells RadarOnline.com exclusively.
Article continues below advertisement
But Michael is insisting his just-out-of-rehab daughter is innocent.
"Leave the kid alone," he says. "Lindsay borrowed the necklace and she returned it. That's it."
If Lindsay is, as expected, charged next week, her probation officer will be immediately notified, another source tells RadarOnline.com exclusively. "Judge Elden Fox will also be notified once Lindsay has been charged. It's extremely likely that Judge Fox will immediately revoke her probation again, and schedule another probation violation hearing. Judge Fox has told Lindsay in the past that if she screws up again, he will send her back to county jail, and it looks like that is a very real possibility."
As RadarOnline.com has been reporting, Lindsay is accused of stealing a $2,500 necklace from a jewelry store near her rented home. Surveillance video tape recorded her in the store the day the necklace went missing. A week later, she was photographed wearing it.
Lindsay isn't letting this latest scandal slow down her socializing though.
RadarOnline.com found her out Friday night at the opening of a posh shoe store in Beverly Hills.