Exclusive
EXCLUSIVE: David Beckham Loses $25 Million Legal Fight Against Hooker & Magazine Publisher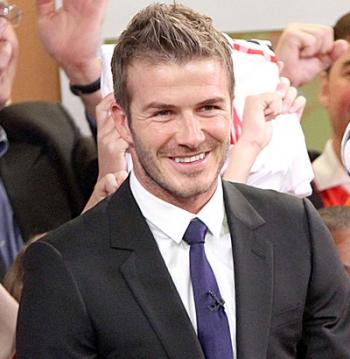 David Beckham's massive $25 million libel writ against a magazine publisher and a Bosnian hooker has been thrown out of a Los Angeles court, RadarOnline.com has learned.
U.S. District Judge Manuel L. Real told a Federal Court on Monday that In Touch Weekly's article titled David's Dangerous Betrayal, published on October 4, 2010, was in the public interest.
Prostitute Irma Nici, 26, had alleged in the magazine that she had a series of sex romps with the soccer stud for $10,000 cash in London and New York in 2007.
Article continues below advertisement
Beckham, 35, was also suing Nici, as part of the legal action.
However, in a sensational ruling, Judge Real found:
* Beckham is a public figure and the details of his private life are in the public interest;
* Nici has a right to make free speech; and
* Plaintiff (Beckham) has not demonstrated properly that the publisher demonstrated clear and convincing evidence it acted with malice.
"While plaintiff points out red flags in Bauer's story, the failure to investigate doesn't establish malice," Judge Real said, in handing down his finding.
Earlier Richard Kendel, a lawyer representing dad-of-three Beckham, argued In Touch's reporting was reckless.
In Touch had filed an anti-SLAPP (strategic lawsuit against public participation) motion, which Beckham had disputed, claiming the publisher demonstrated "willful blindness to the falsity of Nici's story and Bauer's malicious intentions to publish a salacious story about Beckham to sell magazines."
Article continues below advertisement
In response, the magazine filed court papers suggesting Beckham was suspected of having late night hotel trysts with multiple women, behind-the-back of his Posh Spice wife Victoria.
"(In Touch's) published story was entirely consistent with Beckham's reputation as a serial philanderer," Elizabeth McNamara, a lawyer for In Touch, told court.
They claimed there were suspicions the dad-of-three carried on an affair with a Los Angeles-based lingerie saleswoman and would secretly meet her at the Figueroa Hotel near Staples Center after LA Lakers basketball games.