EXCLUSIVE: Charlie Sheen & Todd Zeile Spend Hours Mentoring Aspiring Filmmakers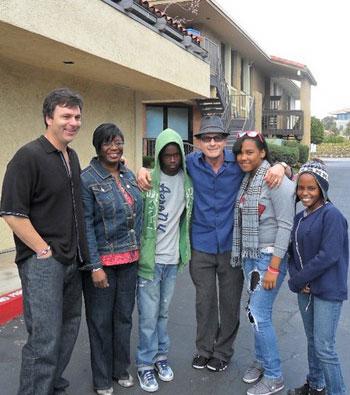 Charlie Sheen and his baseball-great-turned-producer pal Todd Zeile spent their time on Monday mentoring three aspiring filmmakers and RadarOnline.com has all the details.
In an exclusive interview with RadarOnline.com, co-founder Delores A. Brown of the Los Angeles Institute of Film Education, says three aspiring film makers, aged 12-16, spent the better part of their day with Sheen and taught them a thing or two of what happens behind the scenes of the camera during a shoot.
Article continues below advertisement
"Charlie was a surprise, a very nice surprise," Brown says. "Todd and Charlie are very good friends and Charlie spent about three hours giving the kids a private session of what goes on before, during and after a shoot.
"It was great because he can provide real hands-on experience and the kids loved that!"
The Los Angeles Institute of Film Education – aka L.I.F.E. – is a non-profit that was co-founded by Brown and Todd Zeile in 2006 that enables and empowers students to change their community and the world through media education and the arts with hands-on experience.
The aspiring filmmakers - Amber, Kayshawn and Milagro – participated in the mock shoot from 7am until 3pm in Westlake Village at Hipster Kids, a clothing store owned by Zeile's wife Julianne McNamara-Zeile and her sister Elizabeth McNamara-Thompson.
"The shoot was a mock training session – the focus was to be able to excite and ignite kids about behind the scenes of the camera and Charlie and Todd did just that!"
Article continues below advertisement
"The children worked on a reverse shots, the difference between a shoot and a take and talked about lens' and digital film.
"We shot about seven minutes worth of training video – it was great!"
Despite Charlie's latest headline-making antics, Delores wasn't the least bit worried about the Two and a Half Men star mentoring the children.
"There was no concern having Charlie around the kids at all. He was a gentleman, he really worked well with the kids and they loved it - it was a wonderful experience."