Exclusive
EXCLUSIVE: Charlie Sheen: I Did NOT Check Into Rehab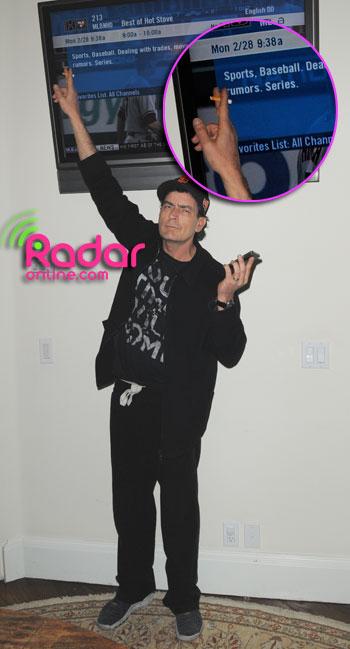 Charlie Sheen just spoke with RadarOnline.com and laughed off an erroneous report that he had checked into rehab, supposedly to save face after his outbursts about CBS, Warner Bros. Television and Two and a Half Men creator Chuck Lorre.
"Hello rehab," Sheen jokingly told RadarOnline.com's Senior Executive Editor Dylan Howard, when he answered a phone call at 9.42am PST.
READ CHARLIE SHEEN'S TOXICOLOGY RESULTS: Charlie Sheen Passes Blood & Urine Drug Test
Article continues below advertisement
"It's absurd, Dylan, you just left my house twenty minutes earlier and I am going to go and take a photo of myself out the front of my house to prove this incredulous report wrong.
"Oh, by the way, the lawsuit just went up to 420 million."
RadarOnline.com recorded another interview with Sheen at his Los Angeles' estate this morning.
That interview will be published, soon.
RELATED STORIES:
Charlie Sheen To Chuck Lorre: 'You're A Stupid, Stupid Little Man... A P*ssy Punk'