VIDEO: Top Naval Commander Under Investigation For Raunchy Videos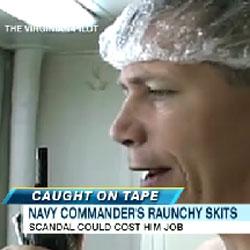 Capt. Owen Honors, the commander of the USS Enterprise, is under investigation by Naval officials after a series of raunchy videos he made years ago was leaked to Norfolk, Virginia's local newspaper, the Virginian-Pilot.
Watch the video on RadarOnline.com
In the videos -- which were broadcast on closed-circuit television to the ship's nearly 6,000-member crew -- Honors (then an executive officer) and others are seen in a series of skits making tawdry references to homosexuality, masturbation and showering.
Article continues below advertisement
Honors introduced the videos by saying, "This evening, all of you bleeding hearts... why don't you just go ahead and hug yourselves for the next 20 minutes or so, because there's a really good chance you're gonna be offended."
VIDEO: 40-Ton Whale Crashes Into Sailboat -See The Shocking Photo
Navy officials said Sunday they will investigate Honors, and anyone connected to the videos, which were made in 2006 and 2007.
"Production of videos, like the ones produced four to five years ago on USS Enterprise and now being written about in the Virginian-Pilot, were not acceptable then and are not acceptable in today's Navy," a spokesman for the U.S. Fleet Forces Command, Cmd. Chris Sims, said in a statement.
The scandal could possibly cost him his job.