VIDEO: Elmo Breaks Silence On Katy Perry Controversy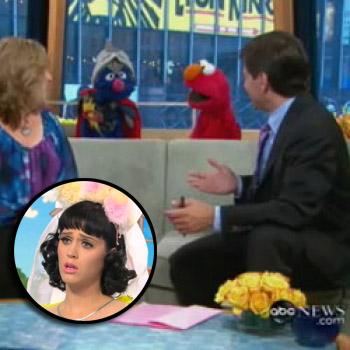 Elmo appeared on Good Morning America Friday to share his thoughts on the controversy involving a Sesame Street sketch he taped with Katy Perry, which resulted in the show's producers not airing the clip after complaints about the pop star's low-cut dress poured in after a preview was uploaded to YouTube.
Watch the video on RadarOnline.com
The show's executive producer Carol Lynn Parente said the scandal caught her somewhat by surprise. She said no one thought the dress was inappropriate during the production of the clip, and even when the viewer feedback arrived at a furious pace, it was "very split."
Article continues below advertisement
Parente said the decision ultimately came down to the show's long-standing interactive communication with parents. (The show also pulled a Chris Brown segment last year after the R&B singer's well-publicized beating of ex-girlfriend Rihanna.)
"They trust Sesame Street, we take that seriously," she said. "Parents' opinions are very important to us."
After producers yanked the segment, the singer Tweeted her response to the ensuing fiasco, writing, "Wow, looks like my play date with Elmo has been cut short! If you still wanna play see it at www.katyperry.com Tag you're it, Elmo!"
MORE ON:
Good Morning America
Elmo (and his pal Grover) popped up from the couch, to chip in their two cents. The ticklish red-haired character didn't seem all too broken up about the whole thing.
"We'll have another play date. Elmo loves Ms. Katy and we had a good time," Elmo said. "So we'll have another play date! Yes Miss Katy, come, come, come, come -- we'll have another play date!" (Watch it Elmo -- we hear Katy's fiancée Russell Brand can be a little testy when it comes to his lady!)