VIDEO: Fired CNN Anchor Rick Sanchez Breaks Silence In First TV Interview - 'I Screwed Up'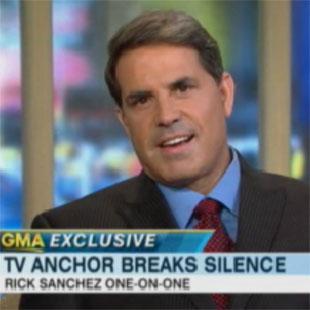 Fired CNN anchorman Rick Sanchez broke his silence Friday in his first live TV interview on Good Morning America, saying "It's tough, I screwed up", when he made derogatory remarks about The Daily Show's Jon Stewart.
Sanchez - sitting down with GMA host George Stephanopoulos - blamed his inflammatory comments on exhaustion. "I was tired... I was working 14 hour days for two and a half months. I was exhausted." He then added, "My daughter had a softball game that I desperately wanted to go to and I was a little impatient... and I said some thing that I shouldn't have said... they were wrong... not only were they wrong, they were offensive."
Article continues below advertisement
Sanchez then told Stephanopoulos, "First of all that is not what I meant... Second of all, I apologize and it was wrong for me to be so careless and so inartful," Sanchez added. "But it happened and I can't take it back and, you know what, now I have to stand up and be responsible."
As RadarOnline.com has previously reported, during his Sirius XM radio interview last week, Sanchez called Stewart a "bigot", and mocked the notion that Jews were an oppressed minority, implying they run CNN.
On GMA Friday, Sanchez said that minorities are underrepresented on prime-time news programs.
"I was feeling a little bit put out. And I was feeling a little sensitive. And I was looking at the landscape and I was looking and I was seeing little diversity and I externalized the problem and I put it on Jon Stewart's shoulders, and I was wrong to do that," Sanchez said.
Sanchez said he called Stewart on Monday to personally apologize and asked the comedian 'Why do you always pick on me?'
MORE ON:
George Stephanopoulos
Article continues below advertisement
"He (Stewart) said, 'Because you're the one I like. You're the one I like.' I mean the guy's been so good," Sanchez said.
Stephanopoulos also asked Sanchez about his future and comments made by Time-Warner Chairman Jeff Bewkes who said the fired anchor might "someday" be hired back by CNN or one of TWs other channels.
"Absolutely, CNN is a wonderful, wonderful organization. They treated me well and took care of my family and I owe them loyalty because they have been good to me," he said. "CNN didn't screw up. Rick Sanchez screwed up. Rick Sanchez was inartful. Rick Sanchez said something that may have been offensive. Rick Sanchez unjustly accused Jon Stewart of being something he's not...
"I learned later that he (Stewart) is the classiest guy in the world when I called him, and I'm the one who needs to be in trouble," he added.
After his live appearance on GMA Friday, Sanchez released a statement, saying " I want to thank ABC, the entire staff and crew at Good Morning America for giving me the chance to apologize on national television and explain my inappropriate comments.
VIDEO: Jon Stewart Mocks Rick Sanchez - Compares Him To Michael Scott From The Office
"The questions were fair, direct and well thought out. Today was a step in an ongoing process as I repair my reputation with viewers, my colleagues and people I offended.
"Again, I am sorry."