VIDEO: Sarah Palin Accuses Media Of 'Blood Libel' In Tucson Shootings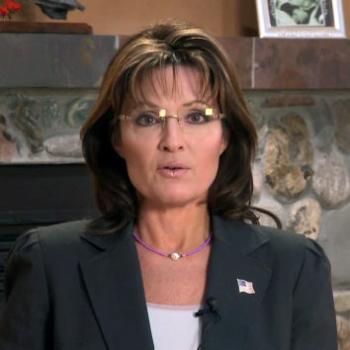 Sarah Palin Wednesday broke her silence about the shooting massacre in Tucson, calling out the media for their "blood libel" in tying her to the tragedy that left six people dead and another 14 wounded.
Watch the video on RadarOnline.com
As RadarOnline.com previously reported, Palin absorbed major criticism for a graphic posted on her website mapping out her political opponents -- one of them being shooting victim, Rep. Gabrielle Giffords -- using targets with cross-hairs to mark each one.
Article continues below advertisement
Palin, in an 8-minute video, declared her sorrow for the victims of the supermarket shooting, before going on the defensive.
"We must reject the idea that every time a law is broken, society is guilty rather than the lawbreaker," Palin said. "Acts of monstrous criminality stand on their own, they begin and end with the criminals who commit them... not with law abiding citizens who respectively exercise their first amendment rights at campaign rallies."
Palin said that "journalists and pundits should not manufacture a blood libel that serves only to incite the very hatred and violence they purport to condemn -- that is reprehensible.
"We are better than the mindless finger pointing we endured in the wake of the tragedy," she said.
The six people dead in the wake of the desert massacre are U.S. District Judge John Roll, 63; 9/11 baby Christina Taylor Green, 9; Giffords aide Gabe Zimmerman, 30; Dorothy Morris, 76; Dorwin Stoddard, 76; and Phyllis Schneck, 79.