PHOTOS: Tom Cruise Heats Up The Mission: Impossible 4 Set In Downtown Vancouver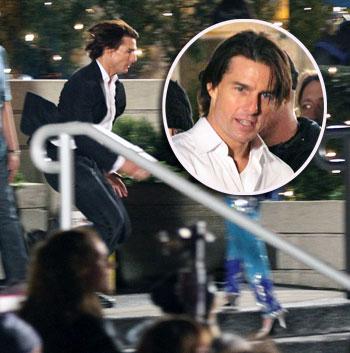 Tom Cruise brought his mega watt star power to the downtown Vancouver set of Mission: Impossible on Friday and RadarOnline.com can bring you the photos.
The 48-year-old A-lister was filming scenes for the fourth installment of the multi-million dollar film franchise and he was busting out some moves worthy of action heroes half his age.
Tom, dressed in just a shirt and a suit despite the freezing Canadian temperatures, dashed through the streets outside the new Vancouver Convention Centre as he filmed a high energy chase scene.
Article continues below advertisement
Proving that he is human after all though, Tom was quick to thaw out between takes, warming up by an industrial sized heater and even performing some on the spot jumps to keep his circulation going.
Ever the people person, Tom happily chatted with extras during breaks in filming and kindly shared his heater, even though they were dressed more clime-appropriately in hats, overcoats and scarfs.
Tom Cruise Is 'A Spoiled Brat' And Ben Affleck Is 'Boring' Says Film Critic
Tom is reprising his role once again as super spy Ethan Hunt in the mega-successful film series and has already filmed scenes, including plenty of death defying stunts, in Budapest and Dubai.
The three previous Mission movies have grossed a combined $1.3 billion worldwide to date and the latest installment, titled Mission: Impossible Ghost Protocol is gearing up to be just as succesful.
The movie introduces two new co-stars; Jeremy Renner from The Hurt Locker and Simon Pegg from Shaun Of The Dead.
Article continues below advertisement
It has been reported that Renner is set to take over from aging Cruise as the leading man in future installments, something he hinted at in a recent interview. "It's a franchise to potentially take over," Renner told MTV News. "I can't predict the future and what they want, but that's certainly the idea."
Meantime, Tom seems to be proving that he still has the energy, and the star power, to bring in the box office bucks, at least for the time being.