Katie Holmes: Tom Helps Me With My Acting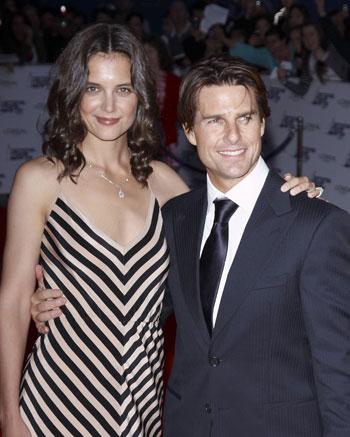 Being married to a movie star has its perks from private jets to Hollywood connections. If you are Katie Holmes and married to Tom Cruise, you also get a built-in acting coach.
When asked in an interview with New York Magazine about whether she and Tom will ever do a movie together, Holmes responded: "Well, we do collaborate on everything at home. But I mean, he's Tom Cruise!...I look back, and everything's a classic.
Article continues below advertisement
"I definitely come home and say to him, 'So, imagine a scene … how would you play it?' And he's helpful and sweet and gracious."
Currently stepping into the shoes of Jackie Kennedy, Katie Holmes has a lot in common with the first lady who was hounded daily by paparazzi but she takes the scrutiny in stride.
"It's there, it's one of those things. My big concern is what does he have going, what do I have going, what are we going to do this weekend. It must seem weird, I guess, having so many people watching. It is weird. I get it. But you just, you know, smile and nod. "
As for four-year old Suri, Holmes beamed like a proud mom: "...she's so creative and she's so bright and so special. Whatever she wants to do, I know she's going to be amazing at it. I've already started my applause, and I will be applauding for the rest of my life."