PHOTOS: Teen Mom Amber Portwood Goes On New Year's Eve Shopping Spree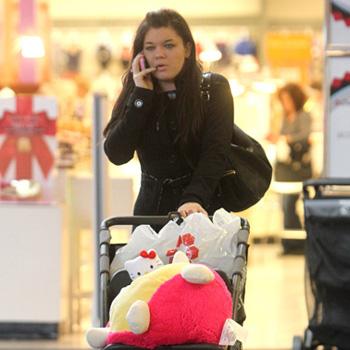 Amber Portwood isn't about to let a little arrest, a few felony charges, and temporarily losing custody of her baby get in the way of celebrating New Year's Eve! The Teen Mom went on a massive shopping spree Friday morning, and RadarOnline.com has the pictures.
Amber worked her way through an Anderson, Indiana mall and bought clothes, shoes, toys and a festive party dress for tonight.
The controversial reality star began the week with a warrant being issued for her arrest, a story RadarOnline.com was first to report.
Article continues below advertisement
She's been charged with three felonies and one misdemeanor in connection with her on-camera beating of ex-boyfriend Gary Shirley which took place in the presence of their daughter Leah.
Portwood turned herself in Monday afternoon, and spent the next 24 hours behind bars during which time a judge issued a "no contact" order preventing Amber from seeing either her daughter or Shirley following her release.