PHOTOS: Bikinis! Superhero Babes Stripped Down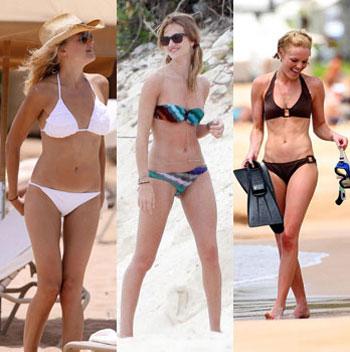 Cameron Diaz isn't the only sexy superhero babe in town! RadarOnline.com has photos of the twenty hottest bikini babes who have starred in superhero movies, stripped down and showing off their hot bods on the beach. Click the next sentence to see the sexiest superhero babes in their bikinis.
Click Here To See Superhero Babes Stripped Down
Angelina Jolie is one of the most sought after stars in Hollywood, so it isn't surprising that she stared in a movie called Wanted. The hot-bodied beauty kicked butt in the action-packed film, where she played a sexy assassin. See Angelina show off her covetable curves in a bikini here.
Article continues below advertisement
The world was shocked when it was announced that Megan Fox would be replaced with Victoria's Secret Angel Rosie Huntington-Whiteley as the bombshell in the Transformers franchise. Fox skyrocked to sex symbol status, playing the love interest of Shia LaBeouf, and though her body is one of the most bangin' on the beach, Rosie gives her some fierce competition! See Megan's fat-free figure here and Rosie's here.
Hot mama Halle Berry steamed up the screen as Catwoman, while Kate Bosworth had Superman drooling in Superman Returns. And how can we forget Spider-Man's lady-love, Kirsten Dunst, who inspired the superhero to come clean about his identity? See bikini babe Halle here, Kate here and Kirsten here.
And Rebecca Romijn went from supermodel to superhero, when she brought her sexy bod to the X-Men franchise. See Rebecca's superhero sexy body here.