PHOTOS: Amber Portwood & Gary Shirley Pass Off Baby Leah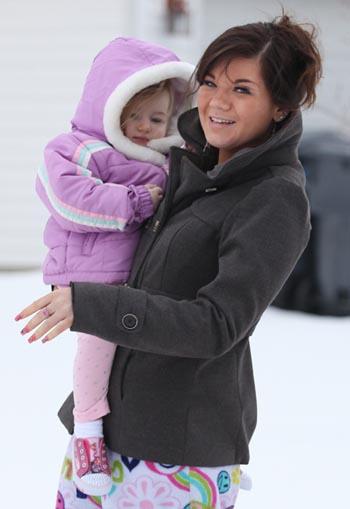 Like a well-orchestrated football play, Gary Shirley passed off his baby Leah to her mom Amber Portwood Saturday, and RadarOnline.com has the pictures.
The play started when Gary dropped off Leah at her babysitter's house. The sitter then drove the little girl to Amber's nearby home. They were greeted by the Teen Mom star herself who raced out into her snow-covered front yard in the wackiest of outfits.
Article continues below advertisement
Amber was done up in full hair and make-up, including the world's longest fake eyelashes. Her hands were perfectly manicured. She had on a stylish jacket. And underneath? Her pajamas and bright pink slippers!
It appeared that Amber was getting ready to work on her MTV show or perhaps sit for a portrait session. In either case, she smiled broadly for the fans and photographers outside her Indiana house as she carried her daughter in.
As RadarOnline.com exclusive reported, on Wednesday both Amber and Gary appeared at a Child Protective Services hearing regarding Portwood's custody of Leah. For the first time, she admitted she had been an "unfit mother." She is apparently trying to change that.
Amber and Gary are separated by a "no contact" order put in place by the court. Until that is lifted, an intermediary is required to transport Leah from one parent to the other.