Obama Royal Wedding 'Snub' Due To Security Costs, Expert Claims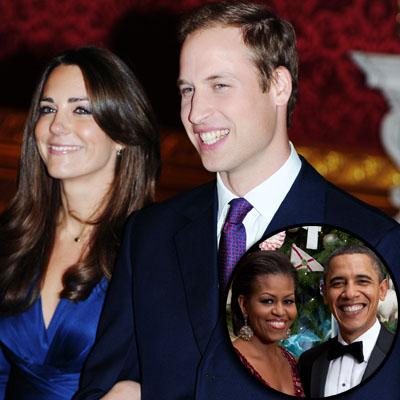 'Save the Date' faxes for the royal wedding were sent out to guests around the globe on Tuesday, but the fax machine at the White House wasn't buzzing with a letter from the Queen of England.
While the former Greek monarch and Serbia's Crown Prince both confirmed that they had gotten the royal note, President Barack Obama and wife Michelle have been 'snubbed' from the guest list of the decade.
But Royal expert Roy Sheppard told RadarOnline.com that the first family most likely got the cold shoulder because of security reasons, not because of a social faux pas.
Article continues below advertisement
"I would assume that the cost of the Obama security would be unbelievably high and the bill would be sent to the royal family," explains Sheppard.
Prince William is not yet heir to the throne so his and Kate's wedding on April 29th isn't a state occasion that would justify the cost of the President and his massive security detail attending.
"It's a private event even though hundreds of millions of people will watch it, and the royals - and British taxpayers - would have to pay for the protection of the President while at the wedding," says Sheppard.
Just like with many other weddings, the parents of the bride are splashing out for the some of the costs, including service, flowers, bride's dress, catering and reception, and honeymoon, reported the Guardian, but policing the President is definitely out of the modest Middleton's budget.
While Barack and Michelle will have to settle for watching the big event on TV, ostracized aunt Fergie has been added to the guest list upon her nephew William's insistence.
Article continues below advertisement
As RadarOnlone.com previously reported, the Duchess of York, Sarah Ferguson, was thought to have gotten the boot from the royal fold for good after she embarrassed the family by trying to sell access to Prince Andrew for $800,000, but reports in the British press say that William is demanding that the Duchess of York come to the wedding and bring his cousins with her.