VIDEO: New Royal Wedding News: Fergie's Invited, Kate's On A Diet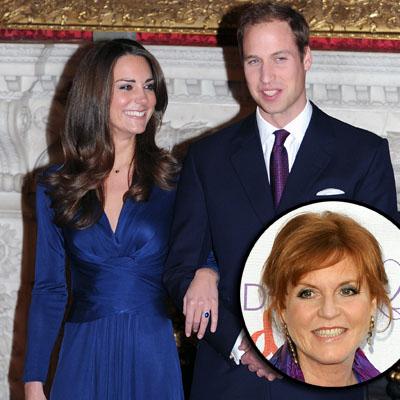 We're now only 95 days away from the royal wedding, and RadarOnline.com has learned that Sarah Ferguson has indeed been invited to the huge event, despite her past bad blood with the prince's family.
As RadarOnline.com previously reported, The Duchess of York was embroiled in a scandal last May when she was when caught on tape accepting $40,000 from an undercover reporter in exchange for business access to her ex-husband Prince Andrew (though authorities would say she did nothing illegal).
Article continues below advertisement
A palace insider told the UK Daily Mail Monday, "The invitations are being sent out next month and the list is almost finalized. Sarah's invitation was at William's insistence.
"William recognizes that she is the mother of Beatrice and Eugenie and still close to his uncle Andrew," the insider told the paper. "William also knows that Sarah was a good friend of his mother Diana and, even though they fell out before her death, they shared a lot over the years."
There's more news on the wedding front, as author Kate Nicholl, who's written a book about the couple called William and Harry: Behind the Palace Walls, appeared on Good Morning America Monday to divulge new details.
Watch the video on RadarOnline.com
Nicholl confirmed previously reports that Middleton has indeed lost weight prior to her nuptials.
"When I met Kate at the palace I was struck by how slender she was," Nicholl said. "And she's lost even more weight -- but she's really no different than any other bride."
Article continues below advertisement
She added that the designer of Middleton's wedding dress is by and large still a mystery, but likely "someone possibly more low-key and more modern and avoid the comparisons to Diana."
Prince William and Kate have been a couple almost ten years, as they met while attending Scotland's St. Andrew's University back in 2001. They'll be getting married April 29, 2011 at the historic English church Westminster Abbey.