Michelle Obama In Fashion Flap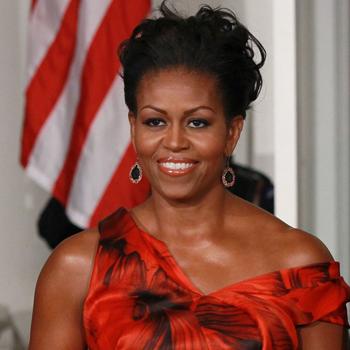 Legendary fashion designer Oscar de la Renta has taken First Lady Michelle Obama to task because of the gown she wore to the state dinner for Chinese President Hu Jintao, RadarOnline.com has learned.
"My understanding," de la Renta told WWD, "is that the visit was to promote American-Chinese trade — American products in China and Chinese products in America. Why do you wear European clothes?"
Mrs. Obama wore an elegant red-to-black gown designed by Sarah Burton from the late Alexander McQueen's design house. McQueen was British as is Burton, and de la Renta thought Mrs. Obama should have only worn a gown that was made in the U.S. of A.
Article continues below advertisement
Even though Mrs. O is the first First Lady in 30 years not to have de la Renta design for her, he insisted his criticism wasn't based on that.
"I'm not talking about my clothes, my business," he said. "I'm old, and I don't need it. But there are a lot of young people, very talented people here who do."
Comedienne Joan Rivers revealed she once ditched a joke about First Lady Michelle Obama from her stand-up routine - because she feared she'd be accused of racism.
Recalling the wisecrack to shock Jock Howard Stern, the comedy legend said: "We used to have Jackie O now we have Blackie O!"
The audio can be heard here on RadarOnline.com.
Rivers wrote the quip about President Barack Obama's wife in reference to her fashionable dress sense and comparing her to former First Lady Jackie Kennedy Onassis.
Mrs. Obama, who supports many American designers and is famous for stepping out in J.Crew attire, has officially become one of the fab four of the political fashion world —joining Jacqueline Kennedy, French First Lady Carla Bruni-Sarkozy and Princess Diana.