Exclusive
Kidnapping Fugitive Ann Pettway Turned Herself Into Police Via Facebook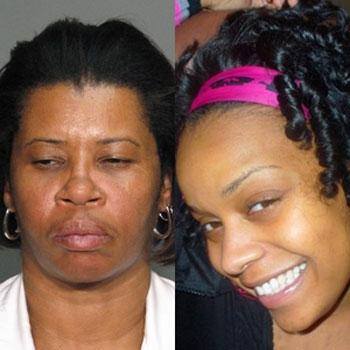 Article continues below advertisement
The family member - who has not been named - had turned to Daniels, a 23-year veteran of the Bridgeport Police Department, for assistance because they knew he would treat the situation fairly and with an even hand, reported the Bridgeport News.
Carlina White Kidnapping Suspect Confesses To The FBI
After the experienced officer responded to the relative on the social networking site, he got a call from them and then Ann herself came on the line.
Pettway had been on the run since January 21st after she fled her home in Raleigh, North Carolina, where she was on probation for an embezzlement charge stemming from June 2010.
The fugitive headed back to the Connecticut town that she grew up in and where many of her family members still live, including her mom, Mary.
Lt. Daniels said that Pettway, "looked like the weight of the world had been lifted off her shoulders," when he arrived to pick her up with FBI agents.
Article continues below advertisement
As a local police officer and a Bridgeport resident, Lt. Daniels had known the Pettway family for decades but didn't have a clue that the young girl renamed Nejdra Nance wasn't Pettway's natural daughter.
EXCLUSIVE INTERVIEW: Carlina White's Aunt Says 'Kidnapper Should Rot In Jail'
Now that the missing baby mystery is solved, he's just happy that the White family are reunited.
"I wish Carlina and her family well," he said.
Daniels was not the only local who had no idea of the deception, in an exclusive interview with RadarOnline.com, Pettway's nephew Levar Jaudon said he never suspected his cousin was not a blood relative.
"I grew up down the street from Nejdra in Connecticut and we were friends as kids," Jaudon, who now lives in Georgia, told RadarOnline.com. "I had no idea she wasn't her daughter and I was pretty upset and shocked when I saw it on the news."
Article continues below advertisement
SHOCKING PHOTOS: Inside The Camp Where Elizabeth Smart Was Held
Pettway appeared in a Manhattan Federal Court on Monday, where she faces federal kidnapping charges. Her attorney spoke about his client's tearful interview. "She's pretty upset, but she understands what's going on," Robert Baum told People magazine.
RELATED STORIES:
EXCLUSIVE: Carlina White's Grandmother Says Kidnapper 'Should Pay'
Carlina White Wants Authorities To 'Get Their Hands On' The Woman Who Kidnapped Her
VIDEO: Carlina White Reunites With Her Real Family