Exclusive
EXCLUSIVE INTERVIEW: Kidnapped Carlina White's Grandmother On Reunion 'It Was Like I'd Known Her All Her Life'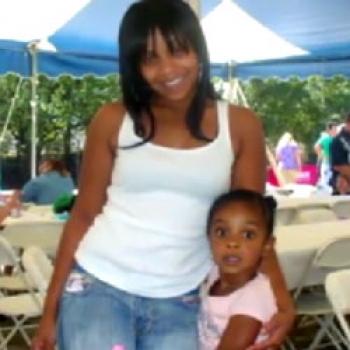 It's the story everyone is talking about – An Atlanta woman named Nejdra Nance just discovered she is actually Carlina White, a baby kidnapped from a New York hospital 23 years ago.
Carlina met with her long lost family this past weekend and RadarOnline.com has all the details of the emotional reunion.
In an exclusive interview, Carlina's grandmother, Elizabeth White tells RadarOnline.com that despite all those years apart Carlina doesn't seem like a stranger at all - in fact quite the contrary.
Article continues below advertisement
VIDEO: Woman Kidnapped As Baby Finds Real Family -- 23 Years Later!
"I saw Carlina on Sunday, she was here in New York and I met her then, I was really happy and she was such a lovely girl," Elizabeth says. "It was like I had I had known her all her life.
"She said, 'I love you grandmother!' as soon as we met. It felt so natural. It was like she had been at her mother, Joy's house for months, she was already part of the family.
"She looks like Joy and her father, her complexion is like Carl's. She's with Carl and Joy right now and they're all together in new York.
Actress/Model Michelle Marie Gopaul Charged In Kidnapping Infant
"I met her daughter Samani at the same time I met Carlina, she is 5, nearly 6."
Elizabeth goes on to say that she had never given up hope of finding Carlina one day, and that she had spent years dreaming what the moment would be like when they were finally reunited.
Article continues below advertisement
"I'd imagined what it would be like when I finally saw her, it was just like I imagined, she didn't seem like a stranger, she seemed like she had been with them all the time," Elizabeth says.
SHOCKING PHOTOS: Inside The Camp Where Elizabeth Smart Was Held Captive
"Carlina met her brother, Sidney, who is 21 and her sister, Sheena, who is 18, for the first time. They all took to each other straight away.
"Her two-year-old twin nieces took right to her, they called her Aunt Lina, they were calling 'bye Aunt Lina, bye!' when she left. She was smiling all the day, they all had a great time up there at the house.
"She was staying with Joy for three days from Saturday and that was the first time they'd met, she was just so happy. It was like they'd never been apart – they were laughing and hugging.
Article continues below advertisement
Elizabeth Smart's Alleged Kidnapper Is A Pedophile Says Expert In Trial
"Talking to Carlina was just like when I talk to her mother, I've never seen anything like it before!
"Joy cooked a big dinner and we sat around and talked and watched TV, went to the store and picked up Chinese food and chips. Joy and Carlina were complaining that the others bought take-out when they'd been cooking all day!
"I think it was God who brought her back, he answered our prayers."
And Carlina's aunt, Lisa White-Healy tells RadarOnline.com that she couldn't stop crying throughout the reunion as she was just so overwhelmed and happy!
"I'm crybaby and I got so emotional - Carlina told me not to cry!" She says. "We all got together and cooked food and had fun and a laugh. I guess it was a reunion because we really reunited it!
"I picked her up with Joy from the airport and I knew exactly who she was, I saw those eyes and I knew exactly she was. It was so emotional, I wish she'd stay here, I don't want to her to go back to Atlanta.
Article continues below advertisement
VIDEO: Change Of Dinner Plans Lands SoCal Couple $266 Million In Lottery
"We found out she was still alive on January 4th, and then it was 10 days until we met her – we didn't know what she was going to be like raised by those people, but she has my sister's personality.
"I wish she would come back here – we've found her and now she's gone again. She's not that far away so I guess we'll have to go visit her.
"The short time we had together we wanted to have fun and laugh, we didn't want to talk about what happened to her, we just concentrated on getting to know each other.
"Carlina's daughter was so cute, she called me TT - she's almost 6 and she looks like my great nieces, Navonha and Nevaeh.
Carlina and her sister Sheena clicked right away, they were going outside together, they slept in the same bed. You could see the connection right away, even before the DNA results came back."