Elizabeth Smart's Alleged Kidnapper Is A Pedophile Says Expert In Trial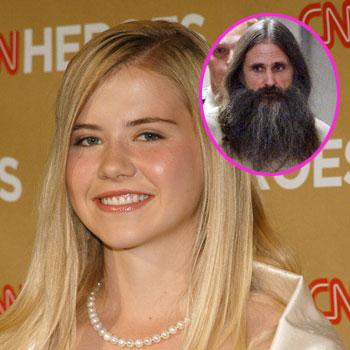 In the final days of the trial of Brian David Mitchell, the man accused of kidnapping, raping and holding then 14-year-old Elizabeth Smart captive, an expert testified for the prosecution that Mitchell is first and foremost "a pedophile."
Michael Welner, a New York psychiatrist who appeared for the prosecution at a cost of almost $750,000, said that Mitchell is a sadist and has narcissistic and anti-social personality disorders, with "the features of a psychopath," according to the Salt Lake Tribune.
Article continues below advertisement
SHOCKING PHOTOS: Elizabeth Smart Evidence In Kidnapping Case
"To know Brian David Mitchell is to be fooled by Brian David Mitchell," Welner said.
In her testimony, Elizabeth spoke of the months of torture she received at the hands of Mitchell, from the daily rapes, to forced alcohol and drug use, to being forced to watch pornography and Mitchell and his wife Wanda Barzee have sex.
Welner said Mitchell's "desire to degrade Smart…which made her experience so horrible," emphasized his disorders.
Welner testified Wednesday that Mitchell does not have a "severe mental disease or defect," which is required in order for the jury to find the defendant not guilty by reason of insanity.
He recounted his first meeting with Mitchell, where he refused to speak or even open his eyes until Welner played a video of Elizabeth's March 2003 interview with another psychiatrist. He said as the video played, Mitchell then opened his eyes, pulled his chair close and began "leering" at the TV monitor. "He was clearly pleased by her appearance in this clip, notwithstanding that Smart was talking about very painful and stressful experiences."
Article continues below advertisement
Welner said that Mitchell qualifies as a psychopath by meeting 17 of 20 criteria, including manipulation, a grandiose sense of self-worth, pathological lying, lack of remorse, lack of empathy and irresponsibility.
Brian David Mitchell is on trial on federal charges of kidnapping and unlawful transportation of a minor. He is accused of kidnapping then-14-year-old Elizabeth Smart from her Salt Lake City home in June 2002 and holding her captive for nine months. His defense attorney says he was mentally insane at the time of the kidnapping. Mitchell faces life in prison if convicted.