VIDEO: Woman Kidnapped As Baby Finds Real Family -- 23 Years Later!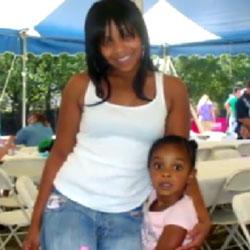 In one of the most amazing stories we've seen in some time, an Atlanta woman named Nejdra Nance found out she was actually Carlina White, a baby kidnapped from a New York hospital 23 years ago.
Carlina was just 19 days old when her then-teenage mother Joy took her to Harlem Hospital August 4, 1987 after a high fever struck. She was then kidnapped by a woman posing as a nurse.
Actress/Model Michelle Marie Gopaul Charged In Kidnapping Infant
Article continues below advertisement
Police could not find any suspects, making it an ice cold case for more than two decades -- that changed last month.
Nance "was very suspicious of who she was and what family raised her," according to NYPD Lt. Christopher Zimmerman.
SHOCKING PHOTOS: Inside The Camp Where Elizabeth Smart Was Held Captive
She subsequently began researching her background online, and soon contacted the Center for Missing And Exploited Children.
Officials from the agency began working with New York police, around the same time Nance contacted Joy White to compare her baby photos to those White had posted on a missing children's website. Upon seeing the photos, Nance told White she thought she was her long lost daughter.
Elizabeth Smart's Alleged Kidnapper Is A Pedophile Says Expert In Trial
DNA tests proved her right.
Watch the video on RadarOnline.com
Article continues below advertisement
Nance's aunt Lisa White Heatley told ABC that Joy, upon making contact with Nance was elated, and when she saw a picture of the girl, "She said, 'That is Mini-Me -- that is me, I know that's my daughter.'"
"Carlina was the missing link, and we have gotten her back in the name of Jesus, Hallelujah, Hallelujah, Hallelujah!" her godmother Pat Conway said.
"I'm so happy she's back," White Heatley said, adding she joked to Nance she'd be sick of all the hugs she'd be getting from the relatives she's reconnecting with. "Thank you God, thank you Jesus I love her!"