Exclusive
HEIL NO! Flat Stanley Company 'Apalled' Over Jesse James & Pals Turning Character Into Nazi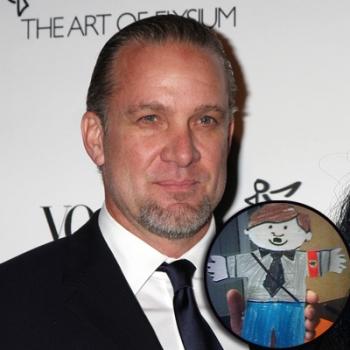 Flat Stanley is pumped up with anger about a recent photograph showing him dressed as a Nazi, courtesy of Jesse James and his West Coast Choppers gang.
Flat Stanley is a tool for promoting literacy, and for years has been mailed around the world (but NOT to the Third Reich) to encourage penpals to engage in creative writing.
A photograph of Flat Stanley dressed as a Nazi recently appeared on a Facebook page of ex workers from Jesse's West Coast Choppers, as RadarOnline.com reported.
Article continues below advertisement
"This is an appalling misuse of the Flat Stanley character and is in no way condoned or supported by the Flat Stanley Project," a spokesperson for the company told RadarOnline.com.
James was earlier embroiled in a scandal after publication by Us Weekly of a photograph showing him giving a Nazi salute and posing as Adolph Hitler.
The Nazi theme popped up again just last week with Flat Stanley and the company clearly was not amused.
"I am reminded of how fortunate we've been over the years that incidents like this are so rare," the spokesperson told RadarOnline.com. "We've created a huge and supportive community of Flat Stanley Project participants at www.flatstanley.com who have used the little flat guy to develop literacy and build community. Even though such abuse is infrequent, this is the reason that we at Flatter World keep our site safe from this type of abuse by personally examining and approving or rejecting every single image and comment that is uploaded to the Flat Stanley Project site by way of our app for the iPhone. We look forward to expanding the Flat Stanley Picture Gallery blog and the iPhone uploads with many more safe and child friendly pictures of flat characters interacting with interesting people."
Article continues below advertisement