EXCLUSIVE: Jesse James & Kat Von D Will Marry Next Month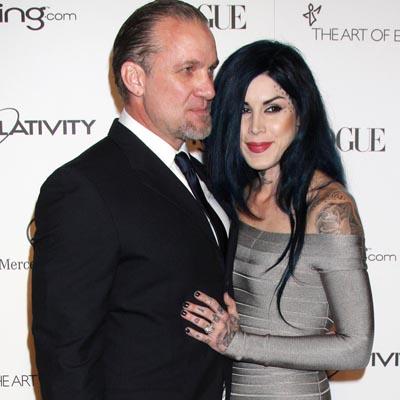 Jesse James and Kat Von D's engagement came as a shock to most everyone, and now RadarOnline.com is exclusively reporting that the inked couple plans on tying the knot within the next month.
"Jesse and Kat don't see any reason why they should wait to trade vows," a source close to the couple explained.
"They are madly in love with each other and want to make everything official."
According to the source, Jesse and Kat have already started planning their wedding, which will be small and happen outside of California.
Article continues below advertisement
Don't expect an over-the-top Hollywood wedding for the motorcycle man and his L.A. Ink fiancée. The couple is planning to take a non-traditional route, which should come as no surprise considering their whirlwind relationship.
As RadarOnline.com previously reported, the two officially stepped out as a couple in September, shortly after Jesse's highly-publicized divorce from Sandra Bullock.
The divorce between The West Coast Choppers star and his Oscar winning wife, actress Sandra Bullock, became official last June after he was caught cheating on Sandra with several women -- most noteably Michelle "Bombshell" McGee. James then relocated to Austin, Texas, where Bullock has a home.