EXCLUSIVE: Jesse James' Ex-Employees Create Facebook Page To Bash Him; Someone Posts 'Nazi' Flat Stanley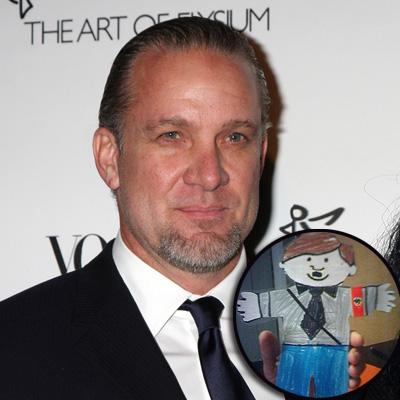 Sandra Bullock and Michelle "Bombshell" McGee aren't alone in their disdain for Jesse James. Some of his former employees at his West Coast Choppers shop in Orange County, CA. are bashing him via Facebook, and someone even posted a photo of a Nazi Flat Stanley -- a possible dig at James' alleged fascination with Hitler.
"Ex-Coast Choppers" -- a Facebook page started in October 2010 -- was created "in a drunken stupor" by a former West Coast Choppers employee to provide an outlet for those who shared in the WCC experience.
Article continues below advertisement
The page provides anonymity, allowing people to post their thoughts and experiences without repercussion.
"If you used to work at West Coast Choppers, you are now an administrator of this page. What that means is your posts (and pics) will show up posted by "ex-coast choppers" anonymously (unless you want to put your name in the text) so have fun," says one anonymous post.
According to another anonymous former employee, working with Jesse at West Coast Choppers was a terrible mistake:
"I left a good job, working for nestle for 7 years to being tortured everyday by a certain sh*tbag aka our boss for almost 4 years. I'll never forget what a dummy I was!!"
Others took a dig at Jesse's infamous last year in the public eye: "Every year JJ does this sh*t. 'Santas FAKE.' This year it's 'Jesse's D*CK!'"
Another anonymous employee exclaimed: "was thinking someone should paint 'Jesse is Fake' on the window."
Article continues below advertisement
Over the summer, Jesse moved his family to Austin, Texas, leaving behind sizable assets in California including his WCC flagship shop in Long Beach that officially went on the market in December for $1,599,999.
And its sudden closing didn't go over well with his workers, according to Facebook.
"Too bad Jesse is a sh*tty business man, could have kept a quality bike shop running if he started treating employees with respect and stop spending the money they made him on worthless vehicles," an anonymous Ex-Coast employee said.
Another adamantly agreed: "Jesse is a joke....what a waste of a man!"
Other posts claim the business website went down after not paying the bill and the electricity company would threaten to shut off the power. A worker even claimed they wouldn't get paid.
"There has been times where we didn't get our paychecks!!!!" someone said anonymously.
And then there are the former employees and customers alike who even question Jesse's skills in creating his masterpieces that made him a household name:
Article continues below advertisement
"OK, I worked with him for a long time. Jesse was no great welder, but when you have millions of $$ you can hire a great stunt double!"
But luckily for Jesse, he's got a few people who have his back:
"It was the best of times....it was the worst of times...would not have changed a thing...thank you jesse for all the good times and f*ck you for all the bad."
And even those that worked closely with Jesse don't believe that the demise of his Chopper shop and his recent high profile divorce will put him out of the game for good: