Glee's Lea Michele Wants To Be A Funny Girl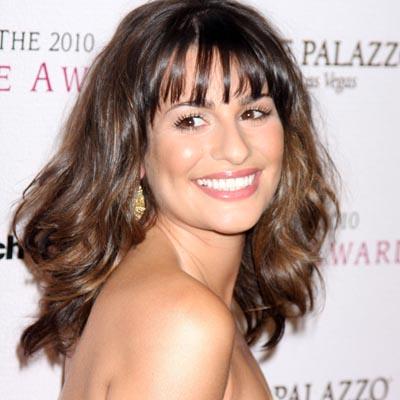 Glee's Lea Michele opened up about her red-hot career and her red carpet-ready looks during a Q & A panel at the Winter TCAs (Television Critics Association) meeting Thursday, and RadarOnline.com has all the info for you.
The 24-year-old New Yorker said if she gets "any free time from Glee, she's hoping to do films," noting that Glee creator Ryan Murphy has been wonderful in giving her the freedom to branch out in her entertainment endeavors.
Article continues below advertisement
"He's so supportive of my career -- I know that he will definitely help me to fit things in," Michele said of Murphy.
Michele also talked about Funny Girl, the iconic Barbara Streisand musical which is set to be resurrected on Broadway in the spring of 2012.
When asked if she'd been offered her a part in Funny Girl, Michele said, "No -- where are the calls? Where are these calls? I mean if you don't know my obsession with Funny Girl ... of course, Fanny Brice is me. I feel very connected to that story."
Asked about her gorgeous looks and keen fashion sense, Michele said that "working on Glee, playing Rachel Berry has made me feel more beautiful than I have ever felt in my whole life.
"I go on that red carpet because I now know that true beauty comes from inside," she said. "So as long as I'm happy, I put these clothes on. If they like them, they like them. If they don't, what you going to do?"
Michele said she can play a high school student for the time being, as she feels like she's "looking younger.
Article continues below advertisement
"Don't you guys think?" she said. "I'm just looking younger as the days go by. For me, I'm fortunate that I feel like I look young. As long as the viewers are believing it, then I'll take it."
Michele said she keeps her figure svelte thanks to a diet she can, thankfully, stray from at times.
"I eat really well -- I don't eat meat, I don't eat dairy," she said. "But let me tell you something, I'm an Italian girl so I love to eat. My mother always tells me, if you think it's good for you it'll be good for you.
"So the next time you're eating chocolate cake just do what my mother says and just say, 'This is good for me.' Then, you know ... when you pack on the pounds it'll be like what?
Glee airs Tuesday night at 8/7c on Fox.
RELATED STORIES:
REPORT: Katie Couric To Appear On Glee