PHOTOS: Lea Michele Tackles Football In Upcoming Glee Episode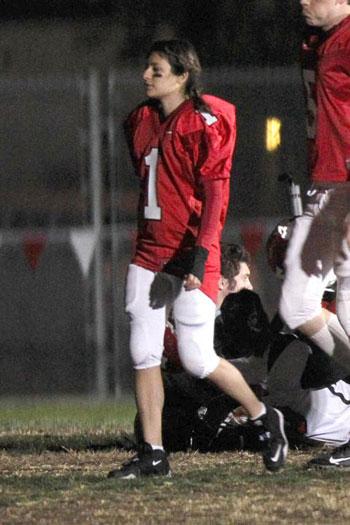 Game on!
Is that really "Rachel" dressed as a football player? It sure is!
In these just released photos from the super-secret set of Glee, lovely Lea Michele trades in her fuzzy cardigan sweaters for shoulder pads and cleets.
We also see Cory ("Finn") Monteith and Chord ("Sam") Overstreet looking hunky in their team uniforms, and Chris ("Kurt") Colfer and his dad in the crowd cheering them on.
It's been a hectic week for the Glee kids. The cast -- minus Colfer who stayed back in L.A. to tape some scenes for Glee -- recently returned from London, where they performed live on the British talent show, The X Factor, and also attended the world premiere of the new film Tron.
Article continues below advertisement