PHOTOS: Glee Cast Back To Work! See Behind-The-Scenes Pics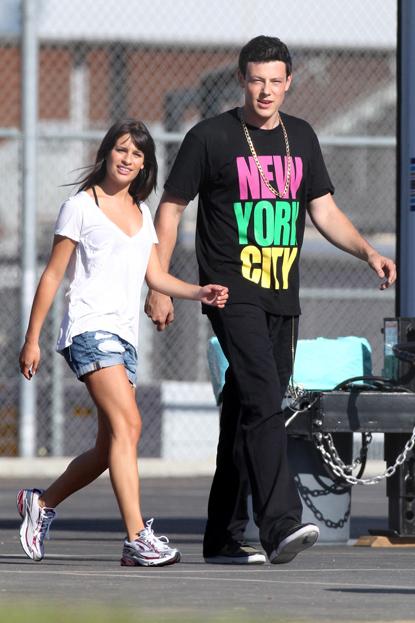 Good news Gleeks! The cast of the hit Fox show have headed back to class, and RadarOnline.com has brand new, behind-the-scenes, pics from the set.
In the shots - snapped Wednesday on the set in Los Angeles - we see several cast members wearing black t-shirts that say New York City. Hmm - wondering what they are planning?
Another shot shows the wonderfully wicked Jane Lynch - fresh from her appearance at Madame Tussauds in Hollywood earlier in the day where she was immortalized in wax - taking a coffee break during rehearsals.
Article continues below advertisement
The first episode of the new season is titled 'Auditions', and Glee's Creator and Executive Producer Ryan Murphy has said it's about the idea that for everybody ,even if you are not in a high school glee club, your daily life is an audition for something.
The third episode of the season, which Ryan calls the most "controversial" one, will focus on faith, and has the kids talking about what God means to them.
The new season will also feature a tribute to Britney Spears and possibly a Paul McCartney tribute, as well as music from the iconic cult movie, The Rocky Horror Picture Show.
Some of the special guests stars expected to make cameos this season include TV actor/Broadway veteran John Stamos, Oscar winner Javier Bardem, Britain's Got Talent sensation Susan Boyle, as well as return appearances by Broadway greats Kristin Chenoweth and Indina Menzel.
Concert Review: Glee Live Brings Magic Of TV Show To The Stage
It could be a very big month for Glee. The show has more Emmy nominations - 19 - than any other TV show, including acting nods for Lea Michele, Matthew Morrison, Jane Lynch, and Chris Coffer. The show is also nominated for Best Comedy Series. The 62nd Emmy Awards will be broadcast live on NBC on Sunday, August 29.
Glee's second season will premiere on Tuesday, Sept. 21 at 8 p.m. on FOX.