Exclusive
EXCLUSIVE: Wacko Demands Revealed In New Lawsuit From Woman Claiming To Be Michael Jackson's Wife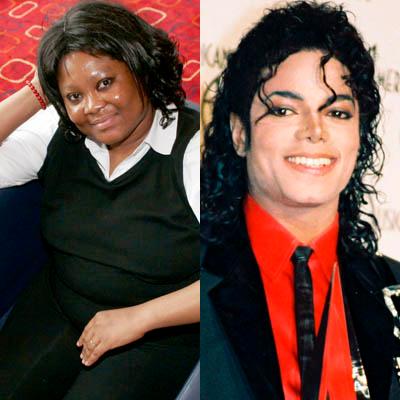 The woman claiming to be Michael Jackson's wife, Nona Paris Lola Ankhesenamun Jackson, will file a new lawsuit as soon as Thursday against his estate, and RadarOnline.com has obtained exclusive documents detailing some of her outrageous demands.
DOCUMENTS: Read The Lawsuit Of Woman Claiming To Be Michael Jackson' Wife
In the 300 page filing, Nona will argue she was married to Michael since the day she was born and their marriage is sanctioned by "Israel Common Law Marriage, Dominican Republic, Nigeria Common Law Marriage and the Laws of the Hague Convention."
Article continues below advertisement
The bizarre yet notarized documents, outlined on letterhead titled "Office of the Michael & Nona Estate," detail every aspect of the King of Pop's estate and how she plans to spend what she estimates it to be worth -- $1 trillion.
"Why do I want to buy British Airways?" Nona rhetorically asks in her lawsuit.
"The first time I saw the Concorde plane, I was astonished because the nose of the plane looked similar to my neckline, a birthmark my daddy put there."
That's just the beginning of Nona's "wish list" which also mentions plans for a Michael Jackson Play Station Plus, a Michael Jackson gold walkman, a Michael Jackson Supermarket and a Michael Jackson line of cars, perfumes and yachts -- which come with paddles.
"Money more than $700 million will be spent on family Private jets, Family Yachts, Motor homes, six fishing boats, Caravans, Three black Limousines, Three white Limousines, and Three black Hummers," she writes.
Article continues below advertisement
Among the England native's wacky demands are also a list of rules for how the Jackson family will be run -- including meals for each day of the week and an expectation that all family members will celebrate their birthdays on December 26 or 27.
"I have many family members, so that all birthdays will be celebrated December 26 through to the 27th annually. We will all have to save our birthdays with gifts and presents," the documents states.
Nona goes on to say she would like to have "Michael's intimate body pictures," and outlines a Nona Jackson Art Gallery which she describes as: "Art paintings and pictures will be in the gallery, blood and pad pictures from me. These will make juicy memories."
Nona claims she had known Michael since she was a teenager and filed court papers in 2006 and 2007 attempting to claim stake in his Neverland Ranch, both of which were rejected.
Article continues below advertisement
She also claims to be the secret mother of Michael's three children -- Prince, Paris and Blanket.
"I request that the honourable court allow me to exhume my husband's body for burial at the Sycamore Valley ranch," Nona pleads in the oddball lawsuit.
"The body will be exhumed immediately and it will stay at the Forest Lawn Crypt or mortuary until the Michael Jackson Mausoleum is completed.
"I will like to film privately, the entire exhuming of the body, the mortuary and the crypt."