Exclusive
EXCLUSIVE PHOTOS: Swell Time! Cheating Governor Mark Sanford Boating With Mistress In Thong Bikini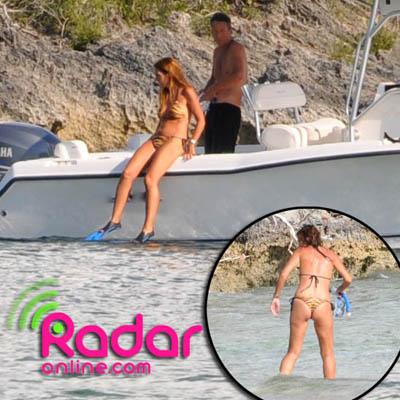 In these exclusive never-before-seen photos obtained by RadarOnline.com, Mark Sanford is seen boating with his Argentine mistress Maria Belen Chapur while he was still Governor of South Carolina.
Sanford, 50, and Chapur, 43, were snapped while boating in the Bahamas during the summer of 2010. He is in his swimming trunks, and she's sporting a thong bikini.
Along with swimming and sunbathing, the twosome had several moments of cuddling and kissing.
Article continues below advertisement
These photos are the earliest known pictures of the pair together.
As RadarOnline.com has previously reported, Sanford was in the middle of a heated scandal two years ago when he went MIA for a several days; while his camp said he was on a hike of the Appalachian Trail, the then-married politician, a father-of-four, was actually visiting Chapur, his mistress. The affair soon went public, with Sanford referring to Chapur as his "soul mate".