Exclusive
EXCLUSIVE PHOTOS: 'Bachelor Pad' Finalists Elizabeth Kitt & Jesse Kovacs - Before They Were Famous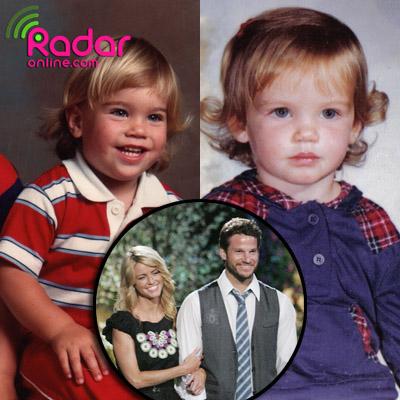 It was the one question that left everyone puzzled after the Bachelor Pad: what went wrong in Elizabeth Kitt's romance with Jesse Kovacs?
While the pair's relationship has cooled since the show ended, there are many happier memories both are sharing -- visible in a new collection of childhood photos both Elizabeth and Jesse have shared with RadarOnline.com.
Kitt, the 30-year-old Los Angeles resident who works in recruitment at Robert Half International, grew up on a farm in Nebraska and was a self-admitted "tom-boy".
Article continues below advertisement
"I liked barbie dolls, but I also liked to play football with the boys and play around in the dirt," the gorgeous Elizabeth told RadarOnline.com.
VIDEO: Bachelor Pad Kicks Off With Major Drama - And Nearly Naked Twister!
In one image, we see Elizabeth as an athletic senior pictured running the final leg of the 3,200 relay!
"High school was busy with volleyball, basketball, track and cross-country," Elizabeth told RadarOnline.com, "I guess I was popular, but never really knew it."
She added: "Where I'm from, people matter more than things, and I never considered myself better than anyone else. We didn't have a lot of money, but we never wanted for anything. There is a lot of love in my family. I try to keep those values even living here in L.A. where material things matter to a lot of people."
In another candid image, Elizabeth -- who originally competed alongside Ali Fedotowsky and Vienna Girardi in season 14 of The Bachelor -- is pictured alongside her school sweetheart.
Article continues below advertisement
"I had a steady boyfriend who I dated from Freshman year until after graduation," Elizabeth said.
"Most people where I'm from get married to their high-school sweetheart, like my sister did, he happened to also be the brother of my high-school boyfriend!
"Though he was one of the greatest guys I've ever known and his family is one of the greatest families I've ever known, I wasn't ready to settle down at such a young age.
"He has since gotten married and he, along with his beautiful family, live back where I'm from."
Jesse Kovacs, the 28-year-old winemaker from Los Angeles, showed off his baseball skills from an early age and is pictured, in one image, at age eight, wearing a red baseball uniform and sporting a winning smile -- minus one front tooth!
In another image, at age four, he is snapped heading out for Halloween dressed as a mouse.
Article continues below advertisement
Since the show ended, Jesse -- who originally competed against Kiptyn Locke and Wes Hayden in season 5 of The Bachelorette -- has been traveling the country to promote the Carmel Valley based wine label, while also promoting a book he and his brother penned titled, The Young And the Thirsty.
The book provides a map for young wine connoisseurs.
While Jesse and Elizabeth's romance didn't survive the test of television infront of millions of people, the pair still speak fondly of the experience.