EXCLUSIVE: Lindsay Lohan -- A Timeline Of Troubles & Rehab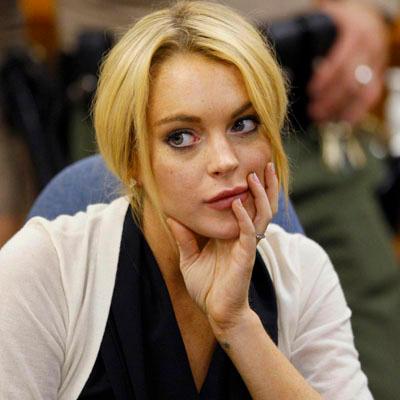 As Lindsay Lohan prepares for a new life in 2011, RadarOnline.com takes a look at her tumultuous last several years.
The rehabilitated starlet Tweeted this weekend, "Today is the first day of the rest of my life 'The future depends on what we do in the present.' -Mahatma Gandhi... One step at a time."
Here's what came before that "first day."
May 2007: Lohan is arrested on suspicion of driving under the influence after her Mercedes convertible strikes a curb in Los Angeles. Police reported that they found a substance they believed to be cocaine at the scene.
Article continues below advertisement
May 2007: Lohan checks into rehab again. "Lindsay admitted herself to an intensive medical rehabilitation facility on Memorial Day," a representative for the singer/actress says in a statement. "Because this is a medical matter, it is our hope that the press will appreciate the seriousness of the situation and respect the privacy of Lindsay as well as the other patients receiving treatment at the facility."
June 2007: Lohan is accused of being drunk when she crashed into a parked van in Beverly Hills in October 2005. According to a lawsuit, Raymundo Ortega claims Lohan -- who was 19 years-old at the time -- "consumed alcohol and became intoxicated" at the Ivy restaurant before the accident.
July 2007: Lohan checks out of Promises rehab facility after more than six weeks and celebrates the end of her 45-day stay by soberly partying with some friends at PURE nightclub in Las Vegas.
Article continues below advertisement
July 2007: Less than two weeks after leaving a rehabilitation facility, Lohan is pulled over by police early in the morning and arrested. She's charged with five counts, including driving under the influence of alcohol, driving on a suspended license and possession of narcotics. Lohan checks into an undisclosed rehab facility hours after the arrest.
August 2007: Lohan is sued again, this time for assault and negligence by one of the passengers who was traveling in the car the actress allegedly commandeered the month prior while driving under the influence.
August 2007: Lohan is charged with seven misdemeanor counts for her two DUI arrests earlier that year. She reaches a plea deal that would have her spend one day in jail, serve 10 days of community service and complete a drug-treatment program. Lohan is placed on 36 months probation and required to complete an 18-month alcohol education program and pay hundreds of dollars in fines. She also is to finish a three-day county coroner program that required her to visit a morgue and talk to victims of drunken drivers. "It is clear to me that my life has become completely unmanageable because I am addicted to alcohol and drugs," Lohan writes in a statement.
Article continues below advertisement
October 2007: Lohan leaves a two-month rehab stint at the Cirque Lodge Treatment Center in Utah. She is seen with her estranged father, Michael, who was carrying her suitcases.
October 2009: Lohan shows up more than an hour late to a probation hearing in Beverly Hills for a progress review on her two DUI cases. She gets another year of probation tacked on due to failure to complete alcohol-education classes as required.
April 2010: Lohan is asked to leave the film "The Other Side." The director says Lohan was fired because she is not "bankable."
June 2010: A Beverly Hills judge issues an arrest warrant for Lohan and orders her to post $200,000 bail after she violates a court order to not consume alcohol while wearing a SCRAM alcohol-monitoring ankle bracelet. The warrant is recalled after bail is posted.
July 2010: Lohan is sentenced to 90 days in jail and 90 days in rehab for violating her probation.
Article continues below advertisement
July 2010: Lindsay Lohan surrendered at the Beverly Hills Courthouse shortly after 8:30 a.m. with her lawyer at her side. Following a brief hearing by Judge Marsha Revel, Lohan was handcuffed, placed in the backseat of a police vehicle, and driven to jail. Lindsay arrived at Century Detention Center at 9:42 a.m. where she was processed into the system before being placed in a jail cell.
August 2010: Lohan would wind up serving only 14 days of a 90-day sentence and was released from jail. Following her release, Lohan was immediately taken to the rehabilitation center to start her three-month program.
VIDEO: Lindsay Lohan Cries As She Begs Judge For Forgiveness
August 2010: Lindsay's photo shoot. The photo session took place with Australian fashion photographer Benn Jaye behind the camera. Lindsay was reportedly very quiet yet professional, according to art director Albert Reed. As the shoot wrapped, she shared with the crew, "this is for my comeback."
August 2010: Though she had been told to serve 90-days at an inpatient rehab center, Lohan left rehab after only 23 days in the program after her doctors said she had done everything required of her, but that she would need to continue submitting to random drug and alcohol testing along with therapy.
Article continues below advertisement
Sept 2010: Lohan confirmed reports she had failed one of her mandatory drug and alcohol tests via Twitter. Lohan said: "Regrettably, I did in fact fail my most recent drug test and if I am asked, I am prepared to appear before judge Fox next week as a result. Substance abuse is a disease, which unfortunately doesn't go away over night. I am working hard to overcome it."
September 2010: At her hearing the judge revoked her probation, denied her bail and sent the starlet back to prison. It wasn't long before her lawyers had appealed, and the decision was overturned. She was released on $300,000 bail later the same day.
October 2010: Lohan is scheduled to be back in court on October 22 to face a secondary probation revocation hearing, but will, until then, wear a SCRAM bracelet, which will continuously monitor her blood alcohol level.
November 2010: Lindsay Lohan was freed from the Betty Ford Center for Thanksgiving and she spent the holiday with her dad, Michael, but not before putting in some time at the gym. The Mean Girls actress was spotted working out at a private gym in Los Angeles and looked to be enjoying herself.
Article continues below advertisement
December 2010: Just days before her scheduled discharge, Lindsay is involved in an altercation with a Betty Ford staffer after coming in a few minutes late. Lindsay calls the cops for help. The staffer has since been fired and faces criminal charges for violating Federal health information privacy laws.
Quite an impressive resume which now brings us now to Monday, the day Lindsay is released from rehab and will begin the journey of rebuilding her life and making a career comeback.