Exclusive
PHOTOS: Lindsay Lohan Back Out At Night - A Zebra Doesn't Change Its Stripes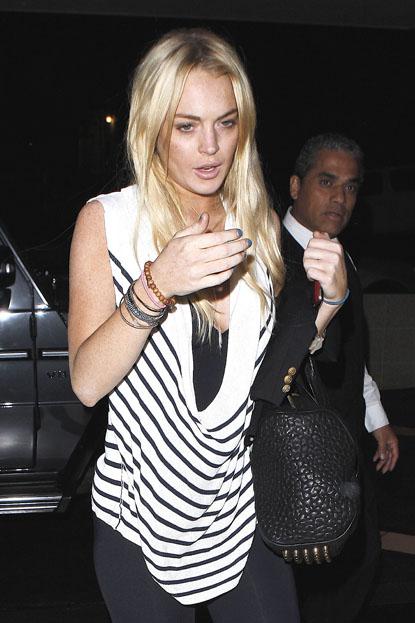 Party girl Lindsay Lohan -- wearing striped top and black leggings -- just can't seem to stay away from her favorite L.A. haunt, the Chateau Marmont, and RadarOnline.com has new pics of the star.
The Mean Girls actress, 24, was snapped trying to hide behind her over-sized purse around 10:30 pm Tuesday after leaving the celeb hang-out.
As RadarOnline.com previously reported, Lohan -- in a just-published interview conducted shortly before she began her jail and rehab sentences this summer -- told Vanity Fair she's not nearly as much of a party girl as everyone thinks.
Article continues below advertisement
"If I were the alcoholic everyone says I am, then putting a alcohol-monitoring bracelet on would have ended me up in detox, in the emergency room, because I would have had to come down from all the things that people say I'm taking and my father says I'm taking," she told the magazine. "So that says something, because I was fine."
She also told the magazine that the last few years have been more of a young woman's rite of passage, not a celebrity meltdown.
"These were my college years ... but they were in the public eye," she said. "I was irresponsible. I was experimenting. I was doing certain things that people do 10 times more of when they're in college."
Lohan was granted an early release from her rehab stint at UCLA Medical Center last month, yet still has to meet certain conditions of the court, including five AA meetings a week, frequent visits to a mental health professional, and residency in the state until November.