Exclusive
EXCLUSIVE: Lindsay Lohan Sends Cease & Desist Letter To Dad: Stop Selling My Stuff!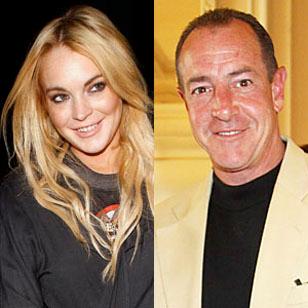 Lindsay Lohan's war of words with her estranged father Michael is moving into the legal arena.
The troubled starlet has fired off a scathing and threatening cease and desist letter to her dad, ordering him to stop selling her personal property, RadarOnline.com has learned exclusively.
She calls his actions "shameful."
At the center of the legal spat is Lindsay's private diary entries she wrote while in drug rehabilitation at Cirque Lodge in Utah, in 2007.
Article continues below advertisement
In the letter -- sent by Lindsay's attorney Shawn Chapman Holley to Michael's rep Lisa Bloom -- the Mean Girls star accuses her dad of attempting to sell excerpts of the hand-written diary.
The legal letter, dated the day before Lindsay was released from court-ordered rehab, says she had no idea her father had the diary and she did not give him permission to sell or distribute it.
According to Chapman Holley, Michael's grab for cash is "shameful" and Lindsay is "appalled" at his move.
The lawyer warned that if Michael tried to sell the diary or any other of Lindsay's personal belongings, Lindsay would exercise all her legal rights and seek damages for a "grave invasion of privacy."
It's the latest sad event in the pair's tumultuous relationship.
Even while estranged from Lindsay, the Lohan patriarch insisted his daughter need to "mend fences" with him and others upon her release from rehab.
Article continues below advertisement
Since being released from UCLA Medical Center, the 24-year-old actress seems to be making an honest effort at getting her life back on track, according to sources close to her.
In the October issue of Vanity Fair, Lindsay blamed Michael for many of her problems.
"I think my biggest focus for myself is learning how to continue to get through the trauma that my father has caused in my life," she told the magazine.