Exclusive
EXCLUSIVE: Dr Phil Tells Radar: I Hope 'Golden Voice' Ted Williams Continues His Sobriety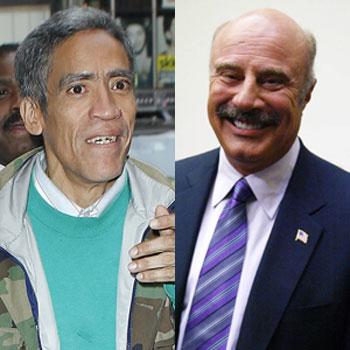 Ted Williams -- the homeless man with the Golden Voice -- has reportedly quit rehab and the man who convinced him to seek treatment for drug and alcohol abuse is speaking out exclusively to RadarOnline.com.
Dr. Phil McGraw, who had Williams agree to go to rehab in South Texas after a "lengthy one-on-one" discussion, released the following statement:
VIDEO: Ted Williams Street Audition
Ted was given the chance to voluntarily enter a drug rehabilitation facility in order to help him in dealing with his dependency on drugs and alcohol. In that it is voluntary, the decision to remain in treatment, is Ted's to make. We certainly hope that he continues his commitment to sobriety, and we will continue to help and support him in any way that we can. We wish him well.
Article continues below advertisement
Williams was questioned by police earlier this month after an alleged confrontation with his recently reunited daughter in Los Angeles.
Williams rose to fame after a YouTube video captured his perfect radio voice, but in the process, exposed his lengthy rap sheet that includes theft, robbery, forgery, and drug possession.
RELATED STORIES:
VIDEO: Homeless Man With Golden Voice Reunites With 90-Year-Old Mom On GMA