Exclusive
EXCLUSIVE: Charlie Sheen At Home Because He Doesn't Think He Needs Rehab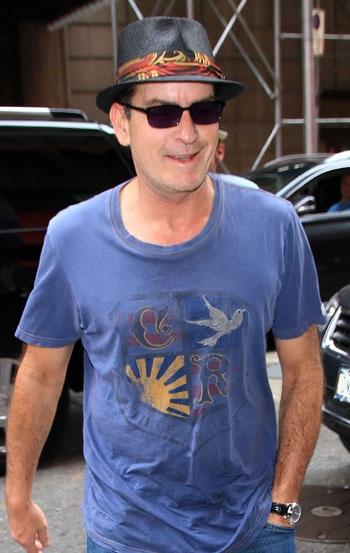 Charlie Sheen is refusing to enter rehab and remains holed up in his multi-million dollar Los Angeles mansion, RadarOnline.com has exclusively learned.
The troubled Two And A Half Men star is defying his inner circle who had been desperately trying to persuade him to voluntarily check into a facility to seek treatment for his drug addiction.
It's a stunning turn of events in the sex and drugs scandal engulfing the 45-year-old Hollywood hell-raiser.
Article continues below advertisement
"Charlie was supposed to go to a rehab facility but he absolutely refused to go," one pal, who has intimate knowledge of the situation, told RadarOnline.com.
"He is at home now and those close to him are trying to get him to enter a facility, but he doesn't think he has a problem."
That's consistent with what the $2 million-an-episode star told RadarOnline.com via text message around 4:30 p.m. PT on Friday afternoon.
Article continues below advertisement
Sheen's text message exchange with RadarOnline.com first drew into question an earlier statement, from his rep, that suggested he had "voluntarily entered" an undisclosed rehabilitation center on Friday.
SEXY PHOTOS: Charlie's Porn Star Bree Olson
His manager, Mark Burg, later told PEOPLE the tragic star was in rehab as of Sunday.
"He was bombarded by every rehab in the country looking for his wallet and publicity and he has been deciding where to go," Burg said.
"With the help of friends and family, he finally agreed to go and went into rehab on Saturday."
But in reality -- and while experts and professionals are coming to Sheen's gated community to treat him as part of a compromise deal -- "it's not rehab", according to one source.
SEXY PHOTOS: Charlie's Porn Star Bree Olson
"This is intervention time," said the pal.
"Charlie doesn't think he needs help, he is still up until all hours of the night and is refusing to get it at an outside facility, all while those close to him -- including his dad Martin, family, friends and his employers CBS -- work to convince him he needs to enter a facility."
Article continues below advertisement
As RadarOnline.com revealed, Sheen spent more than $500,000 on escorts and drugs in the last six months.
The star was ordering up to an ounce of cocaine at a time and would often go on Ecstasy binges while adding methamphetamine to the potentially lethal cocktail.
RadarOnline.com's revelations establish the true scale of the tragic star's habit following a cocaine-fuelled 36-hour bender that landed him in hospital with "abdominal pain."