VIDEO: Kate Gosselin & Kids Go Camping With Sarah Palin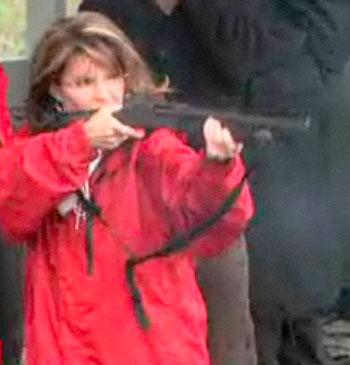 Sarah Palin welcomed Kate Gosselin and her eight children to her Alaskan home so she could take them camping and RadarOnline.com has a sneak preview.
In the episode, Palin prepares Gosselin for their trip into the wild outdoors by taking her to a bear safety class and rifle practice.
"I have never camped for real," Gosselin said.
"Our ruggedness is really a mystery to people in the lower 48," Palin said.
Article continues below advertisement
"She's going to rely on me to protect her."
While Gosselin braves the Alaskan outdoors, she gets a little whiney during the trip and appears to prefer the luxuries of her Pennsylvania hometown to the wilderness of Alaska.
"The kids are having fun, so I'm tolerating it," Gosselin said.
Sarah Palin's Alaska airs this Sunday, December 12 at 9/8c on TLC.
For more Sarah Palin's Alaska videos, visit TLC.com. RELATED STORIES: