VIDEO: Something's Fishy On Sarah Palin's Alaska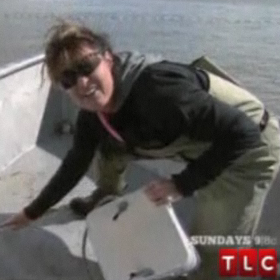 While Bristol Palin has been getting all the headlines for her surprising stint on Dancing With The Stars, two of her siblings, brother Track and sister Willow, were the stars on Sunday's edition of TLC's newest hit, Sarah Palin's Alaska.
Watch the video on RadarOnline.com
In the episode, the family celebrated the Fourth of July weekend with a fishing expedition on Bristol Bay, hoping to catch some of the region's famed salmon.
Article continues below advertisement
On the look for lox, dashing 21-year-old Track did his best to learn the craft of fishing from his father Todd, who he calls "one of the best fishermen around."
His mother Sarah said that "Track has yet to learn that being a captain means that every piece of equipment he uses is now his responsibility... a big part of being a fisherman is knowing when to cut bait and run."
We also saw Willow, anticipating her upcoming 16th birthday, bonding with Sarah and great grandmother Lena over a fish-gutting session.
"I'd rather she be doing this than textin' her buddies, thinkin' she needs to be all dolled up and goin' out and partyin' or anything else," Sarah said of her teenage daughter. "I'd rather she be here, kinda out in the woods in Alaska, pickin' fish and processing a resource with her great grandma."
In another emotional scene, we saw Sarah discuss meeting Matthew, a young cousin on Todd's side who, like her youngest son Trig, has Down Syndrome. She said that seeing the "welcomed and loved child" gave her great inspiration for the future.
Article continues below advertisement
Later in the episode, the family celebrated Willow's birthday, as Todd finally caught a few nets full of salmon, prompting Willow to call Todd's ocean harvest "the most fish I've ever seen."
Sarah Palin's Alaska airs Sundays at 9/8c on TLC; her new book, America by Heart: Reflections on Family, Faith, and Flag, is in stores now.
RELATED STORIES:
VIDEO: Bristol Palin Hoped To 'Give A Big Middle Finger' To Her Critics