VIDEO: Chelsea Handler Trashes 'Homewrecker' Angelina Jolie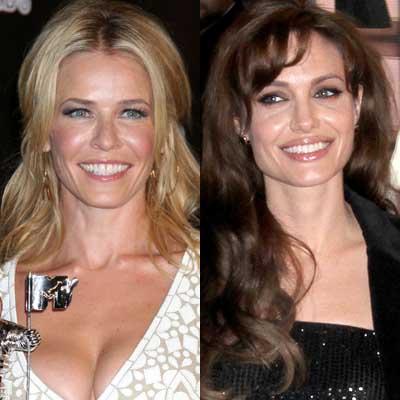 It's safe to say we won't be seeing Angelina Jolie doing Chelsea Lately anytime soon: the outspoken E! talk show host called the A-lister a c--- and a b---- during a raucous stand-up performance on her Chelsea Chelsea Bang Bang tour Friday in Newark, New Jersey.
Watch the video on RadarOnline.com (Note to readers: the following clip contains graphic profanity and is not suitable for children)
"I hate her too, I hate that b----," Handler said of Jolie. "She's a homewrecker, she is."
Article continues below advertisement
As RadarOnline.com previously reported, Handler recently returned from a weekend in Mexico with pal Jennifer Aniston, who Brad Pitt left for Jolie after the two struck up a romance on the set of their film, Mr. & Mrs. Smith.
The 35-year-old comic said she doesn't "f---ing believe" feel Jolie is a nice person as "she can rescue as many babies from as many countries as she wants to."
Handler said, "Jolie gives interviews and says, 'I don't have a lot of female friends.' That's because you're a f---ing c---, that's why!"