Chelsea Handler and 50 Cent Enjoy Lunch Together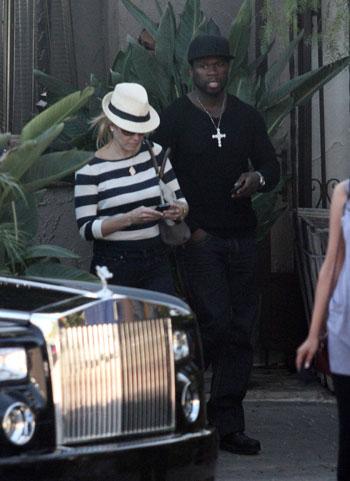 She may have made on-air jokes at his expense to dispel romance rumors but Chelsea Handler made another public outing with 50 Cent. RadarOnline.com has new photos showing the talk comedian and rapper enjoying a lunch date together in Malibu.
While the pair have denied any romantic relationship, the cozy snaps suggest the rumors might well be on the money.
Both parties appeared in good spirits and were even sporting similar outfits with gold pendants and dark jeans. After posing for some pictures (the rapper flashed a smile as Chelsea snapped a picture of him on her phone), they jumped into 50 Cent's Rolls Royce and drove away together.
Article continues below advertisement
The couple first hit headlines after getting cozy at a club in New Orleans early last month.
At the time Chelsea dispelled the romantic reports via Twitter: "Everyone, calm down. I met with Mr. Cent about a potential project. There's nothing to report yet, I'll let you know if there is."
They were seen together again just two weeks later in a bar in Los Angeles.
RECENT STORIES:
Chelsea Handler - 'Everyone Calm Down'; Says Not Dating 50 Cent