REPORT: David & Victoria Beckham To Attend William & Kate Wedding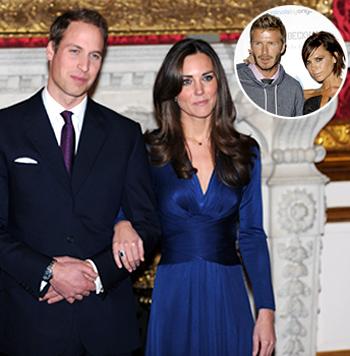 Add the Beckhams to the A-List invitees who will be attending Prince William and Kate Middleton's upcoming wedding, RadarOnline.com has learned.
David Beckham texted his pal William his congratulations right after he announced his engagement, and the Prince responded that an "invite was on its way," UK's Sunday Mirror is reporting.
The Beckhams have known both William and his brother Harry since the boys were teens, and in recent times, William and David have bonded over football.
Article continues below advertisement
The Prince is president of the UK's Football Association, and he and soccer superstar Beckham will be together next week as they lobby for the 2018 World Cup to be held in England.
Victoria Beckham, now one of London's most high profile designers, is said to already be assembling her wardrobe for the wedding and all the social events that will surround the ceremony.
William and Kate will walk down the aisle on April 29 with 2,000 of their nearest and dearest in attendance.