NEW DETAILS: Nicole Richie and Joel Madden's Beverly Hills Wedding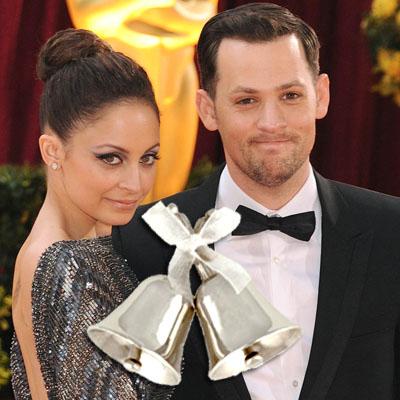 Just two days after Nicole Richie and Joel Madden tied the knot, RadarOnline.com has new details about the long-awaited union between the rocker and ex-reality TV star.
Khloe Kardashian, Gwen Stefani, Gavin Rossdale, Kris Jenner and Samantha Ronson were among the approximate 150 guests in attendance at the winter-themed bash, which took place at the beautiful Beverly Hills estate of Nicole's dad, All Night Long (All Night) singer Lionel Richie.
Article continues below advertisement
Invited celebs who could not make the bash, according to the NY Post, included Kim Kardashian and Christina Aguilera (who was scheduled to sing, as well).
The menu included red greens salad, breaded goat cheese patties, homemade butternut squash ravioli, and a choice of filet mignon or seared ahi tuna.
As for the wedding pictures? The couple Sunday was reportedly "playing the weekly magazines against each other to drive up the price," an insider told the paper, which reported the new husband and wife could receive as much as $100,000 for the exclusive rights to the wedding day shots.
Some of the fashion industry's top trendsetters worked on the gorgeous, custom-made Marchesa gown Nicole wore down the aisle, according to Elle UK. The dress was made to Georgina Chapman's design under stylist Simone Harouche's watchful eye, the fashion journal reported.
The Rev. Run officiated the wedding, Us reported. The Run-DMC rapper, a practicing minister and avid Twitter user, was reportedly a must-have for the bride and groom.
Article continues below advertisement
EXCLUSIVE PHOTOS & DETAILS: Lionel Richie's House Gets Party Ready As Nicole Richie Wedding Looms
"Joel and Nicole have looked up to Rev. Run, so they wanted him to officiate," a source told the magazine. "They both appreciate his family values and he is an inspiration for both. They both also respect his faith, too."
As RadarOnline.com previously reported, an elephant named Tai was part of the celebration, and hundreds of red roses were supplied by "florist to the stars," Mark's Garden. All the wedding details were orchestrated by superstar event planner Mindy Weiss.
Music legend Quincy Jones, Lionel's good friend and Nicole's godfather, arrived just before she walked down the aisle. Other guests were brought in by shuttle van from the nearby Beverly Hills Hotel.
Joel's Good Charlotte twin brother Benji, was reportedly the best man. The two little ones belonging to Nicole, 29, and Joel, 31 -- daughter Harlow, 2, and son Sparrow, 15 months -- were also part of the celebration.